Why is it that so many businesses still see a website as a cost rather than an investment to generate a return? We live in a digital world so why isn't your online presence at the forefront of your business strategy to increase revenue? Well, after speaking with thousands of businesses ranging from startups all the way up to companies with offices around the globe, I've noticed a few common comments and it's time to debunk some of the common reasons we hear and get serious about your investments in digital channels.
The Current Situation
So many established businesses will happily spend money on traditional activities because that is what they have always done. The world has changed, it's time to keep up or give up. Traditional ways that money is spent includes sponsoring awards, radio advertising, printed materials such as flyers and handouts, promotional products such as pads, pens and mugs, trade fairs, direct mail, advertisements in magazines and newspapers, printed banners, popup stands and many more methods. Money is spent in these areas without batting an eyelid. Because apparently this is what we need to run a business, right? Have you ever attempted to calculate the return you generated as a direct result of your spend on these activities? I imagine that if you have, you have also struggled to attribute any of these activities individually to a direct increase in revenue.
Let's be clear here though, I'm not saying don't do any of these. I'm a huge believer of testing everything and tracking the results. And yes, these activities certainly support your overall marketing strategy. But you have to ask yourself the question, if we live in a digital world, why aren't you investing more seriously in digital channels? What are you afraid of?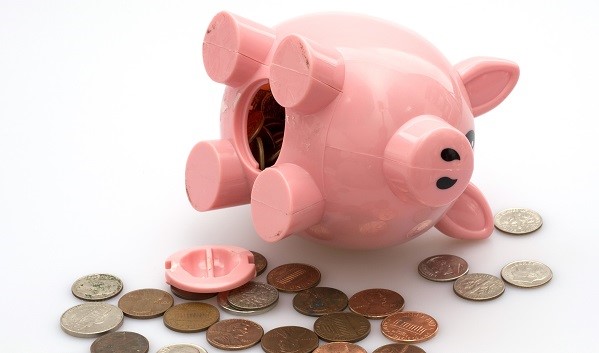 If you see your website as a cost, you've already lost. A website should support your business goals, sales and marketing strategy and more. Your website should be a key touchpoint during the sales process or should be directly generating revenue for your business through ecommerce sales or generating enquiries.
Digital Doesn't Work for Our Industry
Seriously? Did I just hear you correctly? I kid you not, this is something we have heard on multiple occasions.
** Takes a deep breath **
You think that digital doesn't work in your industry? I ask you to prove to me that digital doesn't work in your industry. I want to see all of the following that you have invested in previously and generated zero results if you truly believe that digital doesn't work in your industry;
Show me your Google Analytics data, how many visits are you getting per month from different traffic sources, what are these website visitors doing when they get to your website (Are they bouncing away straight away? It's probably because you have a horrible website or you are getting low quality traffic), how many enquiries or sales are you generating through your website? (You aren't tracking this you say?), is your website traffic increasing or decreasing every month? (You are tracking this on a regular basis aren't you?)
Show me how visible you are on Google when customers are searching for your key products and services? (You are tracking this data aren't you?)
Show me how your pay per click advertising campaigns are performing on Google AdWords (You have tested this haven't you?)
Show me how your social media campaigns are feeding into your digital marketing strategy to connect with key influencers and boost your brand online (You are active on social media on a regular basis aren't you?)
Show me how well your email marketing campaigns are performing, I want to see open rates, click through rates, popular content, active customers
Show me your average order values and customer lifetime values per traffic source, I want to see how your individual digital marketing campaigns are performing against your traditional marketing activities. Show me the return on your investments for all of your activities.
During our initial analysis when speaking with businesses, we ask some very probing questions about the businesses we may choose to work with in the future. We want to make sure that you are ready to invest in digital seriously. We want to make sure that you are truly open to increasing your revenue through digital marketing, or whether you are simply looking at digital to dip your toe in and seeing everything as a cost and a tick box exercise.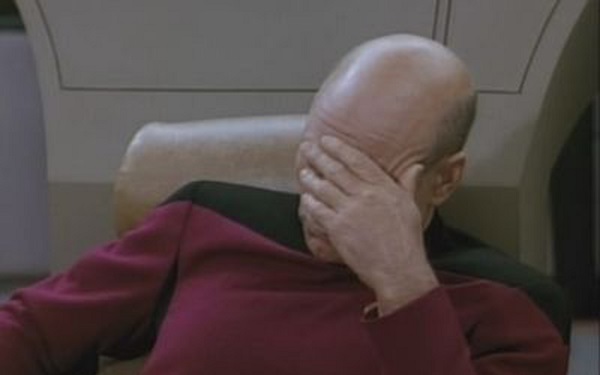 Generally speaking, when we hear comments such as "Digital doesn't work for our industry" there isn't a great deal we can do to help at this stage. Let's chat again in a couple of years when you're ready to talk things through seriously and are more aware about how the world has changed. For those who can answer some of the basic questions outlined above, then this is where we come in to get you on the right track and get your digital marketing campaigns performing well.
We Had SEO Done Once
Search Engine Optimisation is never done. It is part of an ongoing process designed to increase organic traffic to your website over time and ultimately sales / enquiries / revenue depending on the sector you are working in. We've seen businesses who thought they "had SEO done" previously and decided to go no further, against our best efforts to convince them otherwise. Avoid making the same mistakes as we have seen to many other businesses make, invest in your digital channels to build long term results, rather than seeing SEO as "done";

Would you ever see your physical shop or office space as being "done"? Or would you empty the bins daily, clean the carpets, tidy the desks, bring in new customers, promote your shop as being open, walk your shop floor daily, add new products to your inventory, run special offers and promotions to generate new customers and more? It is no different when looking online. The only difference comes down to choice. Each individual business either choses to invest in digital, or they don't. Living in a digital world, you yourself will naturally research many of the products you have around you right now online in the first instance.
We Already Have a Website, Why Do We Need Another?
Is your website performing? No? Is your website mobile friendly? No? Does your website look like it was built in 1996? Yes? Your customers online are looking for a website that sells a specific product or service, is extremely easy to use, is branded very well and fits with their personal beliefs. If you website was built by your friends neighbour's son who was taking a Dreamweaver course 10 years ago then it probably isn't going to be relevant for your customers.
A bad website is like turning up trying to sell to potential customers unwashed, unshaven, wearing unfitted clothes with holes in and smelling like a wet dog. If you turned up in person to sell to potential customers like this, how do you think they would react? And how is this different online?
Your website is your digital shop front, make it count and engage with your audience. Website visitors want to see that you care, that you are there to help them accomplish their goal, that you are only a phone call away from being able to answer their queries and that you actually want new customers. A bad website simply pushes people away.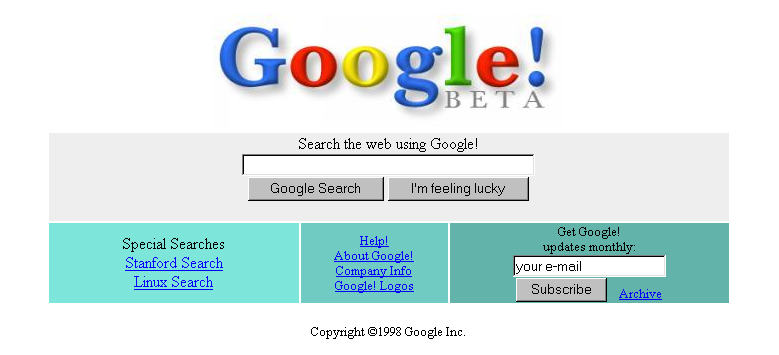 A good website builds loyal customers over time. Your website may not look as bad as Google's did back in 1998 (although we have seen some that do come close!). Do you think Google would be as popular today if they didn't invest in their website seriously over the past several years?
We Spent 10's of Thousands on Our Website about 5 years
5 year is a lifetime in the digital world. Traditional civil engineering projects are often designed to last 100 years. You're lucky if your website lasts 100 months without any input. Unfortunately spending money on digital projects does not guarantee quality. We've seen so many instances where companies have spent a lot of money on websites which simply haven't delivered. Only recently have we seen a brand new website launched that is effectively telling Google to go away.
This is an unfortunate reality for many businesses, which is why we launched our Digital Lifeline packages so you can call on someone to give you solid advice about your digital activities and website technologies. Having bought a website years ago and wondering why this isn't performing now is a little mad when you compare this to the real world. Imagine if you bought an old car from a sleazy second hand car sales man, you can picture the type, and then you decided not to get an MOT done at all, no services, any repairs were done with your own hammer, screwdriver, car manual and a bit of duck-tape where needed. How do you think your car would be performing today? Probably not very well.
Again, the same is true for your website. If you see your website as a cost, then you have already lost. If you see your website as a vehicle to increase ecommerce sales, enquiries from around the globe and ultimately revenue then you are on the right track. Imagine living out in the sticks, with only a post office and a corner shop in the village. Not a great deal of job opportunities (i.e. personal revenue). In this instance, buying a car isn't a cost, buying a car gives you freedom to break into new markets such as cities and increase your personal revenue by getting a higher paid job. Your website is no different – when you invest in your website seriously.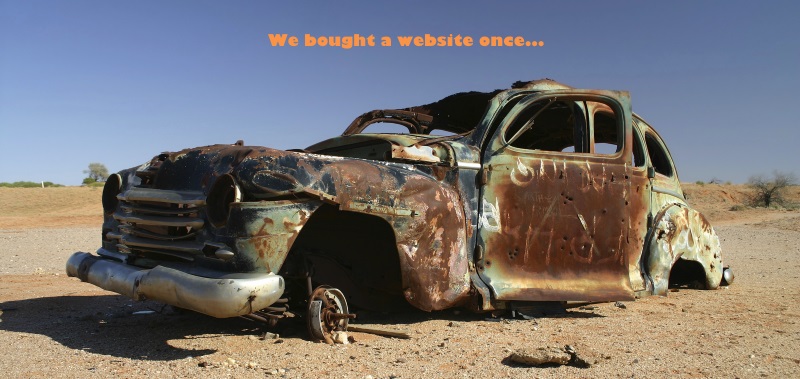 Your Website Should Generate a Return on Your Investment
Have a think about this;
If I asked you to give me a £1 coin right now, how many of you would pop one in the post to us? No-one? Why? We're a great bunch of folk 🙂
As a comparison, if I asked you to give me a £1 coin right now, and I would give you £2 back, how many £1 coins would you send us in the post? I'm guessing that you'd empty your bank account, right? Because you would double your money overnight.
The logic of investing in digital marketing channels is no different. The difference being between traditional marketing channels and digital marketing channels is that you can track every single detail in one of these channels, whereas you can track very little results in the other channel.
Looking at the famous quote;
"Half the money I spend on advertising is wasted; the trouble is I don't know which half."
I'd like to expand on this quote and be a tad facetious;
"Half the money I spend on advertising is wasted; It's the offline half!"
Being able to track and understand how all of your marketing channels are performing will allow you to make strategic decisions to grow your business. Simply spending money aimlessly on activities that you've always done in business probably isn't the best approach going forward, unless you are confident that this is already working for you.
Next Steps
We work with businesses of all shapes and sizes, some who are well versed in digital technologies and are needing support along their fast paced journey, and also companies who require a good amount of support as they are still at the start of digital journey. We will work with any business who requires our help and is ready.
The familiar quotes couldn't be truer;
"You can lead a horse to water, but you can't make it drink" – Quote
"When the student is ready, the teacher will appear" – Chinese proverb
"A journey of 1000 miles begins with a single step" – Chinese proverb
We're ready to work with you and your company as soon as you are. All of the contents of this blog post are choices which people and businesses can make. People either choose to do something about their underperforming website and talk to us, or they choose to do what they have always done.
The more companies I personally speak with, the more I realise that success in the digital world is not down to our amazing work alone (although this does help!) but it is often down to the choices made by the individuals within either ambitious or struggling businesses.
Remember, all you need to do is ask we we'll be there to help.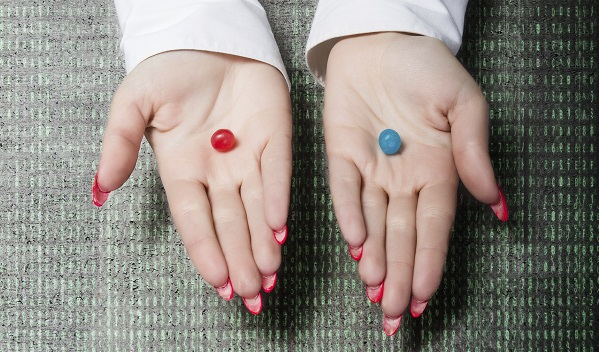 The following two tabs change content below.
Michael has been running Contrado Digital for over 10 years and has over 15 years experience working across the full range of disciplines including IT, Tech, Software Development, Digital Marketing, Analytics, SaaS, Startups, Organisational and Systems Thinking, DevOps, Project Management, Multi-Cloud, Digital and Technology Innovation and always with a business and commercial focus. He has a wealth of experience working with national and multi-national brands in a wide range of industries, across a wide range of specialisms, helping them achieve awesome results. Digital transformation, performance and collaboration are at the heart of everything Michael does.
Latest posts by Michael Cropper (see all)