Pay per Click Advertising
Decrease your Cost per Acquisition and generate more customers with your investment
Looking to drive more traffic, enquiries and sales through your website? Then Pay per Click Advertising can help. We believe that your paid search campaigns should deliver a positive return on investment, that's why your account will be managed by Google AdWords Qualified Individuals. We understand how you can generate more sales for less money through a process of optimising your account over time to decrease your Cost per Acquisition.
Our Pay per Click Process
Pay per Click Advertising platforms can be a challenge to manage effectively on your own, which is why we use industry recognised tools and software to optimise and run your account. The goal from Pay per Click Advertising is quite simply to reduce the Cost per Click figures while increasing the number of sales through your website. We achieve this through utilising our knowledge and experience to work towards this goal by optimising the account over time.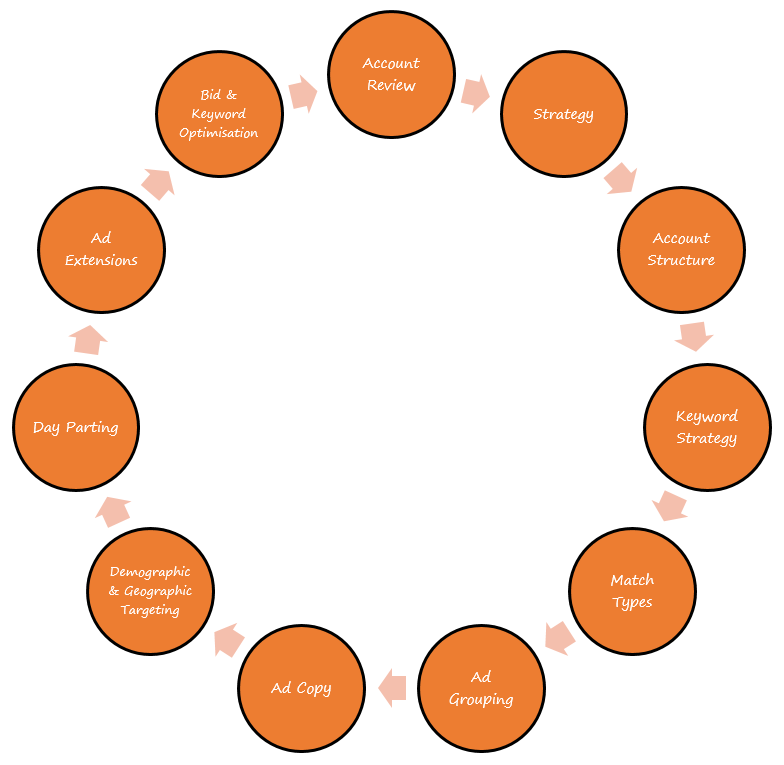 Account Review
The first step in your Pay per Click Advertising campaign is for us to review your current account and understand what is in place, what is working and where improvements can be made. An incorrectly structured account can mean that you are paying a higher Cost per Click than you should be doing. Based on this initial review, a strategy can be created to work towards decreasing your Cost per Acquisition.
Strategy
Now the current account is understood, the next step is to create a Pay per Click strategy that can be implemented over time to reduce your Cost per Acquisition for your products and services. This strategy will look at areas such as Keywords and Ad Grouping, Keyword Match Types, Demographic and Geographic Targeting, Ad Copy, Keyword Strategy, Account Structure and Ad Extensions.
Account Structure
The way your account is structured can impact the how good or poor your campaign is performing. As such, we optimise your account structure to make sure you aren't paying a higher Cost per Click than you need to be doing. Having a well-structured account helps to clearly report on performance at a macro and micro level.
Keyword Strategy
Including the correct keywords in your Pay per Click Advertising campaign leads to targeted traffic being generated to your website. Including incorrect keywords in your campaigns means that you are paying for clicks that are never going to generate any sales for you. We will review where the opportunities are and implement a strategy that will drive targeted traffic to your website that is most likely to convert.
Match Types
Once the keywords your potential customers are searching for have been identified, it is important to use the correct Match Type on those keywords. This simply means that you aren't paying for irrelevant clicks for similar searches that aren't related to your product. As an example, Amazon.com bidding on the keyword "Amazon" with the Broad Match Type selected would pay for a click if someone searched for "Amazon River" and clicked on their advert.
By setting up your Match Types correctly this helps to increase the reach of your Ads while ensuring your Ad isn't being served on irrelevant keywords.
Ad Grouping
Once the keywords and Match Types have been correctly selected, these are then placed into distinctive Ad Groups that are for your products and services. For example, this Ad Group could be for "Barbados Holidays" as an example, and another Ad Group could be for "Caribbean Holidays".
By grouping the keywords into distinctive Ad Groups, this allows your campaign to be optimised over time which helps reduce the Cost per Click, increase the traffic and decrease your Cost per Acquisition.
Ad Copy
Each Ad Group now needs Ad Copy associating with them. As such, we start off with ensuring all of your Ad Copy is relevant for the Ad Group and Keywords being targeted. This leads to a more focused Ad which leads to a lower Cost per Acquisition.
Over time, Ad Copy is optimised by understanding which Ad Copy drives more conversions. For example, do customers prefer to see "Budget" or "Cheap" in the Ad Copy? Continual testing and optimisation will identify what keywords your customers associate with your brand, products and services.
Demographic and Geographic Targeting
Your advertising budget will never stretch far enough that your Ads are shown to everyone searching for your products and services. As such, we can target your Ads to focus on key demographics and geographical locations that we know are more likely to purchase your products and services.
This means your budget is spent wisely towards the areas that are going to drive the most conversions.
Day Parting
Once the campaign has been running for a while, data will be available to understand what part of the day your customers tend to purchase and what time of day they tend to be browsing. Once we understand this trend for your customers, we can optimise the account to only display Ads at times when customers are most likely to purchase. This leads to your budget being more efficiently spent by only paying for clicks that are more likely to convert.
Ad Extensions
There are additional extensions that are available to your Ads including location information, phone numbers, site links and social profiles. These Ad Extensions are available to utilise to draw additional attention towards your Ads. Once the campaign is performing, these Ad Extensions can be tested to identify which once your customers are interested in.
Bid & Keyword Optimisation
Once the campaign is running well, the next step is to continually optimise the bids to ensure you aren't paying more than you should be for clicks. This on-going optimisation leads to an ever decreasing Cost per Acquisition which means you are generating more enquiries for the same budget.
Reporting
Reporting on Pay per Click Advertising is essential to understand how your budget is being spent and which areas are performing well and which areas need more focus. We provide detailed weekly Pay per Click reports that allow you to see the performance of your account in an easy to understand way.
AdWords Vouchers
As our staff are Google AdWords qualified, we receive Google AdWords Vouchers on a regular basis from Google that we offer to businesses to increase traffic, sales and enquiries through their website. Get in touch to find out if we have any available to help your business start using the leading advertising platform online.