Travel is a competitive market, so it is important that your brand stands out from your competitors when customers are searching on Google for queries such as "Holidays to Kefalonia" and similar review type queries. Rich snippets are a great way to highlight your brand amongst your competitors which can generate additional traffic to your website from Google, leading to increased sales and enquiries.
So what are Review Rich Snippets and when do they show?
Rich Snippets are a form of structured data that simply helps Google to understand what the content on your website is about. There are Rich Snippets for a variety of areas and the one we are going to cover today is specific to highlighting review information on Google. What this means in practice is that when customers are searching for queries such as "Holidays to Kefalonia" or "Holidays to Kefalonia Reviews" there is a greater chance that Google will highlight your website with stars next to your listing as can be seen in the image below;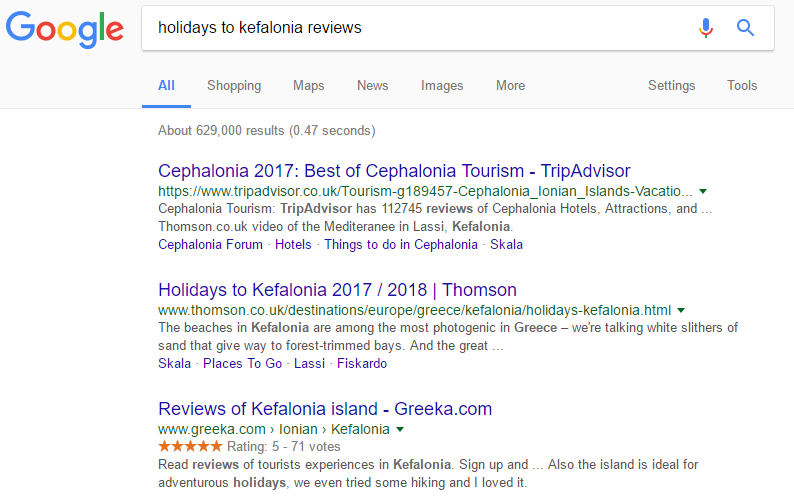 As you can see here, your eyes are instantly drawn to the listing that stands out from the others with the star ratings. In essence Review Rich Snippets require each individual Review to be marked up along with aggregating this data into an overall review based on all the review data. This information can be from your previous customers who have been on one of your holiday packages, so it is essential to be collecting this data from your customers at the earliest available opportunity.
How to Mark Up Review Rich Snippets
There are many ways to marl up Review Rich Snippet content which gets rather technical, so we're only going to skim over this information as we don't want to bamboozle you with the finer technical details. For the purposes of this blog post we'll use the Greeka.com website as an example and take a look at what they have done to implement Review Rich Snippets on their travel website.
Firstly what you'll notice when you visit their website is a listing of review information as you would expect to see as a user;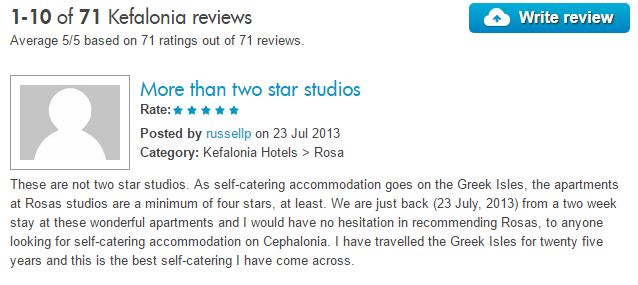 What's important to note here is two pieces of information. Firstly, you will see the overall reviews listing at the very top which states that there are 71 reviews in total with the average being 5/5 for the reviews that have been left. Then beneath that you'll notice an individual review that has been left by a customer. As a user, you'll never notice Review Rich Snippets are there which is exactly why they exist. Review Rich Snippets for travel websites are in the code in the background which is telling Google that there are reviews associated with this specific item such as a holiday package, a resort, a restaurant or a specific hotel for example.
Here's what this looks like in the background, the code below relates to the aggregate reviews which are what is showing on Google;

What you'll notice is that there has been specific pieces of code wrapped around the content on the page which state that the destination has an average review of 5/5 from 71 people. When you read through the code you'll notice there are specific pieces of information such as 'best' and 'average' and 'votes' etc. It is this information and more that Google is using to generate the visible star ratings on the Google search results that customers see when they are searching for travel companies.
Likewise you'll also notice when reading through the code on the page that each individual review also has specific Review Rich Snippet data marked up around it too as you can see in the image below;

With information such as 'reviewRating' and 'worstRating' and 'ratingValue' for example being some of the key pieces of information Google requires to be able to see how the overall review ratings have been calculated.
Ok, that's enough code for now. In essence, to get Review Rich Snippets and star ratings showing on Google it is important that you implement the code correctly which ties in closely with the technology that is powering your website. There is no one-size-fits-all approach here as every website is different.
If you'd like to implement Review Rich Snippets on your travel company website then get in touch and we'll work closely with you to implement Review Rich Snippets so you can stand out from your competitors and boost website traffic and sales.
---
Annual Travel Destination Trends for UK Customers 2017
This Orange Paper highlights the key changes in UK consumer behaviour for where they are travelling to on holiday. By understanding where UK consumers are interested in travelling to on holiday it is possible to tailor your marketing campaigns towards the popular destinations and grow revenue.
The following two tabs change content below.
Michael has been running Contrado Digital for over 10 years and has over 15 years experience working across the full range of disciplines including IT, Tech, Software Development, Digital Marketing, Analytics, SaaS, Startups, Organisational and Systems Thinking, DevOps, Project Management, Multi-Cloud, Digital and Technology Innovation and always with a business and commercial focus. He has a wealth of experience working with national and multi-national brands in a wide range of industries, across a wide range of specialisms, helping them achieve awesome results. Digital transformation, performance and collaboration are at the heart of everything Michael does.
Latest posts by Michael Cropper (see all)