Imagine….. a situation where modern Agile Delivery Methodologies were applied to a very entrenched 'way of working' such as local elections that are happening right now throughout the UK. Well, let's take a look at how this plays out so it's easy to see how this can apply to your business and deliver value (aka. more efficiencies, sales, profitability etc. aka. £££) to your business faster. Who doesn't want that, right?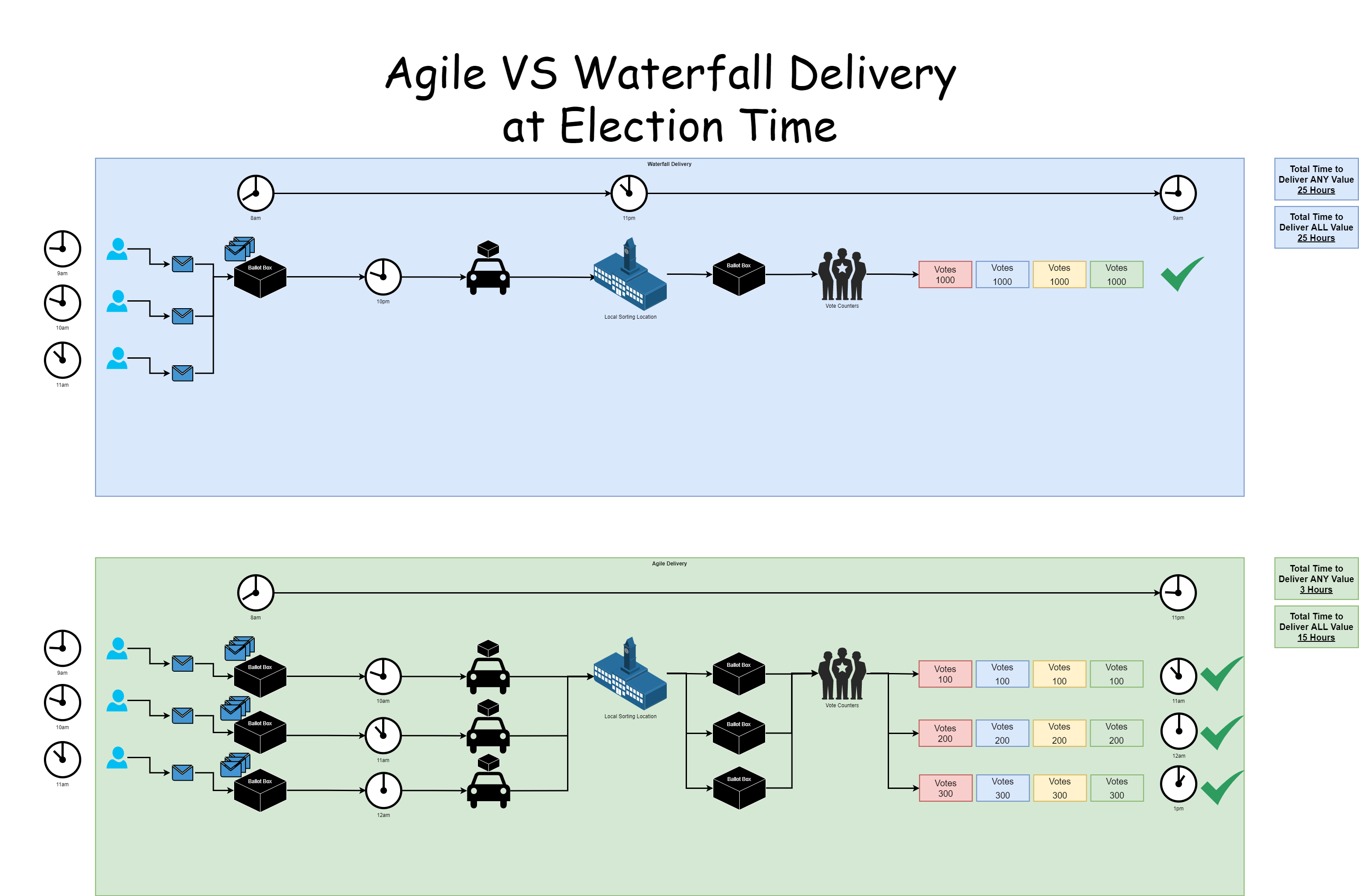 There isn't going to be a lot of talking in this blog post, more studying the image. Note the word value used below, think £££ ultimately. The core things to point out;
With Waterfall;

You only get to deliver any value right at the end, almost double the amount of time than with the Agile Delivery Methodology
The 'Big Bang' approach is heavily reliant on that single delivery method (aka. the car) working and not breaking down. If the car breaks down, the AA/RAC ( #ManyOtherProvidersAvailable 😉 ) have to be called out to save the day, wasting hours of time in the process
The focus from the delivery team, aka. the car driver and the Vote Counters, is high pressure, high speed, high quality, which naturally results in many errors (aka. Trump and his x+ days of recount nonsense that happened in the US recently). Why put your team under such pressure when you can adjust the way of working to deliver continually?

With Agile;

You get to deliver value within as little as 3 hours, and complete value is delivered in only 15 hours, almost 50% more efficient than waterfall
The 'Phased Delivery' approach is able to cope with issues with deliverability. Assuming different transport vehicles for the delivery of each ballot box, a break down in one doesn't cause issues for the whole
The focus from the delivery team, aka. the car driver and the Vote Counters, is a low pressure, moderate speed, high quality, which naturally results in low errors. A low pressure environment leads to a happy workforce.
The main benefit is that we don't need to wait up all night (seriously…. who does that?) to get the election results. Or in the case of recent US election results, several days.
There are so many analogies that I could go into with this blog post. But seriously, while this is a bit of fun at election time, start to think how you can approach Agile Delivery Methodologies to your organisation. The more you can chop down deliverables into tiny tiny pieces, not even large phases, then you will start to see productivity exponentially rise within your organisation when it comes to delivering value to your customers. We did a blog post a while back titled IT Project Delivery Achieving More by Doing Less which goes into a lot more detail about this topic. If in doubt, get in touch to see how you could supercharge the delivery of your organisation from an IT perspective with no more 'Go Live Dates'.