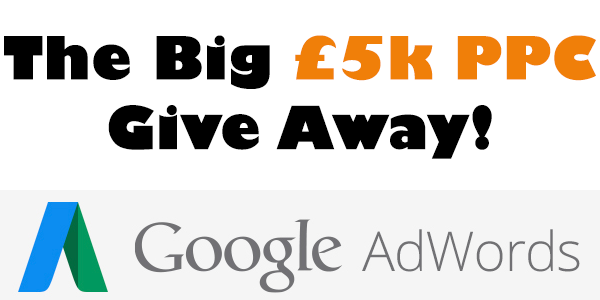 As you know we recently renewed our Google AdWords qualifications for another 12 months after spending a couple of days over at Google's Manchester office. Following on from this, we have a little over £5000 of Google AdWords vouchers to give away to businesses looking to increase traffic, sales and enquiries through their website! In addition to this, we are going to be hosting a full day event to help businesses get started with using Google AdWords and setting your account up in the best way possible.
Whether you are a complete beginner and know nothing about Google AdWords or if you are looking for some expert guidance, this training session is designed for you. We will talk you through the benefits of how Google AdWords can be used for your business and how it can be used to directly increase revenue for your business. Even better, all of this will be explained in a simple way that you can understand. If you don't know your AdWords from your Analytics, then we will demystify this for you and get you set up on Google AdWords in no time.
Far too often businesses will jump in with both feet and set up a PPC campaign without fully understand the finer details about how Google AdWords actually works. What this inevitably leads to is a campaign that often doesn't perform very well and businesses coming to the conclusion that Google AdWords doesn't work for their business. This is such a shame to see as Google AdWords is an extremely powerful marketing channel that can grow your business. You just need to make sure that your campaigns are set up correctly to get the maximum return for your advertising spend.
The event will be a full say session with the main agenda outlined below.
When: Friday 5th December
Time: 9:30am – 4:30pm
Venue: Contrado Digital, The Innovation Centre, 1 Evolution Park, Haslingden Road, Blackburn, Lancashire, BB1 2FD
Morning Session
Introduction to Google AdWords
Account management
Campaign and ad group management
Keyword targeting
Language & location targeting
Ad formats
Budgets and bidding
Measurement and optimisation
Performance, profitability and growth
Managing multiple accounts
Lunch
Afternoon Session
Bring your laptops, it's time to put everything you have learnt in the morning session into action and start your AdWords campaign running. Hands on second half to set up your campaign with qualified Google AdWords professionals on hand to help you along the way
As you can imagine, we are likely to get quite a large number of businesses looking to take advantage of this free training and Google AdWords voucher worth £150 per business, so get in touch now and fill out your details below;
Due to the popularity of the event, we cannot guarantee a place although we will do our very best to accommodate where possible. Get in touch now and you will be updated next week when places will be confirmed for qualifying businesses.
What's the catch? There isn't one. There will be a small charge between £15-£20 for the full day training event which is purely to cover the cost of lunch, drinks and room hire. What we would hope is that once you have your account set up correctly and it is working well for your business, that when the time comes that you decide to work with a company to manage your pay per click advertising campaigns, you would get back in touch to discuss things further. Managing pay per click advertising campaigns is something we understand in a lot of detail.
The following two tabs change content below.
Michael has been running Contrado Digital for over 10 years and has over 15 years experience working across the full range of disciplines including IT, Tech, Software Development, Digital Marketing, Analytics, SaaS, Startups, Organisational and Systems Thinking, DevOps, Project Management, Multi-Cloud, Digital and Technology Innovation and always with a business and commercial focus. He has a wealth of experience working with national and multi-national brands in a wide range of industries, across a wide range of specialisms, helping them achieve awesome results. Digital transformation, performance and collaboration are at the heart of everything Michael does.
Latest posts by Michael Cropper (see all)