Blogging is one of the best ways to increase traffic to your website from Google. It gives you the opportunity to increase your authority over time by sharing news, relevant information, key industry events and company information to your current customers and potential customers. That said, we often see times when people simply get the implementation of a blog completely wrong which means that their website is gaining very little or no SEO value from the content that is being created. With a few guidelines, you can make sure that your blog is benefiting your customers and search engines.

Platform and Location
A blog is simply a place where you can write blog posts (like this one you are reading now) which are displayed in reverse chronological order. This allows you keep your customers and potential customers up to date with what is going on in your business and industry.
You have quite a few options when running a blog, although for us there is really only one option that we would recommend, which is WordPress. We will cover the different options first and then explain why we would only recommend WordPress as a platform.
First you have several options where you can create a blog on one of the many free platforms such as Blogger which was previously called Blogspot and is still in use by some blogs today. To do this, you simply visit one of the websites, create an account and you are ready to start moving with your blog.

This can be a great option for running a personal blog as it doesn't require any technical skills to set up. Simply sign up and start blogging within minutes. Using these platforms for a business blog probably isn't the best option though. The main reason being branding. You are extremely limited by the branding options available to you on these platforms, so when a customer or potential customer visits your blog and it doesn't look like the rest of the website, they are going to get a little confused. In addition, you generally have to stick with their domain. So for example, to access your blog, you would visit http://your-business-blog.blogger.com or http://your-business-blog.blogspot.com which again doesn't present your business in the best way possible.
Aside from the branding aspect, this setup from an SEO angle is adding very little value to your website. The reason behind this comes down to how Google calculates authority and hence how visible you are on Google. Google calculates authority based on the domain name, i.e. your website address. In this case, to halves don't make a whole. The image below shows an example of website authority when you separate out your blog and main website on two different domains;

Google will see your main website at http://www.your-business.com and also your blog at http://your-business-blog.blogger.com and treat them as two separate entities, each with their own authority. While it often isn't quite as straight forward as this, but if you think of authority being an exponential curve for the purposes of this example. What this means is that both your main website and your blog will be seen as mediocre instead of having one single website which also hosts your blog being seen as a highly authoritative source of information. In the examples above, imagine the higher the authority, the more visible your website is on Google. Here, we have 2.5 + 2.5 making 5. So for a total of 100 pages on a website, with an overall authority of 5. Now let's compare this to how this would look when both the website and blog are on the same domain name;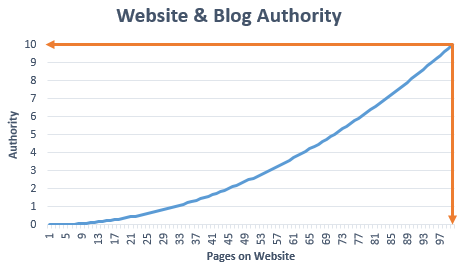 Here you can see that from the same quantity of pages, your overall domain authority is much higher. Double in fact. This is the reason why it is essential that your business blog sits on your main website rather than an external website.
This is why we would always recommend using WordPress as your blogging platform. To be clear, we are talking about the self-hosted version of WordPress opposed to simply creating an account at WordPress.com. The self-hosted version of WordPress allows you to have a blog at www.your-business.com/blog/ which may also be powering your whole webiste.
Going back to what we just spoke about, this means that from Google's perspective, that all of the content on your website is on a single domain so your website will be seen as a more authoritative source of information. WordPress has been designed with blogging in mind and if you are in any doubt about how good it is, well we could give you a lot of features and functionalities lists, but instead we'll just let you know that WordPress powers over 20% of websites on the whole internet and is by far the most popular content management system which has over a 50% market share. Still not convinced? Then get in touch and we will be more than happy to give you a demo of the platform to show you how powerful it actually is.
Depending on how your website is set up currently, there may be some technical challenges to implementing the above which require ad smarter work around.  We will cover these a little later in the blog post.
Internal Linking
Ok, so you are writing content on your blog. Firstly, let's just check that it has relevance for your website, products and services. It does, right? Ok, good, so you are writing relevant content on your blog. Now let's look at how to get the most out of this content so Google will understand which pages on your website are Important.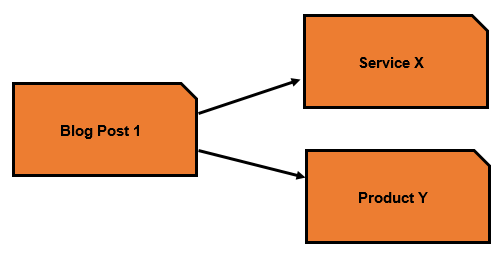 This may sound blindingly obvious, but you would be surprised at how many websites don't do this correctly. Link to the pages you are talking about, you don't have to do anything smarter than that.  When you are talking about your products and services on your blog, make sure you link to the page that explains more about that product or service. For example, when we write content that is around the topic of digital marketing or website design, we will always link to those pages. This will tell Google that the page being linked to is an important one, so this can give you a nice little boost. This isn't going to be a case of just doing it the once, but instead start to build this into the process of writing your content and over time this small benefit will be compounded. Likewise, if you talk about a previous blog post, then link to that too. And again, if you talk about an authoritative source of information or website, then don't be afraid to link to those too, as long as they are good quality then you are on to a winner.
Technical Challenges
So we mentioned earlier that using WordPress may be a little challenging if your website isn't built in WordPress already. Without wanting to go into all of the finer technical details, to put this into perspective for the non-technical people. It is like having a meal with both sweet food and savoury, it just doesn't quite work. On the technical side, it actually means that you can't run several server side languages from the same web server, you have to do a bit of jiggery pokery in the background along with having access to two web servers that are each capable of running the different platforms. Specifically for WordPress, your web server needs to be able to run PHP. So if your website is built in PHP already, then you are good to go. If on the other hand your website is running .Net or Java, then you are going to need another web server that is capable of running WordPress.

What all of this means is that if your website isn't built in PHP already, then you need to have a discussion with your website developer. Speaking in geek, the blog on your website, I.e. www.website.com/blog/ needs to be set up to point to your web server that is hosting your WordPress blog, which will likely be through a proxy redirect. This will then mean that when Google looks at your blog, it appears to be on the same domain name as your main website, which can significantly help with your on-going SEO efforts. The quick and simple solution is to set up http://blog.website.com, but this often isn't the best solution from an SEO point so bear this in mind. If your main website is running on an IIS server, then there are specific modules you need to add on, which gives you similar functionality to Apache's .htaccess file.
Summary
To summarise how to get the most out of your blog for SEO, firstly make sure you are writing about relevant content for your audience. Secondly, make sure your blog sits on your main domain and not a sub domain or another website altogether. Thirdly, make sure you are linking your main products and services up within your blog posts where relevant.
The following two tabs change content below.
Michael has been running Contrado Digital for over 10 years and has over 15 years experience working across the full range of disciplines including IT, Tech, Software Development, Digital Marketing, Analytics, SaaS, Startups, Organisational and Systems Thinking, DevOps, Project Management, Multi-Cloud, Digital and Technology Innovation and always with a business and commercial focus. He has a wealth of experience working with national and multi-national brands in a wide range of industries, across a wide range of specialisms, helping them achieve awesome results. Digital transformation, performance and collaboration are at the heart of everything Michael does.
Latest posts by Michael Cropper (see all)