Website Development
Beautiful responsive websites your customers will love
Beautiful websites designed and built to grow your business online. We believe your website should showcase your brand in the best possible way online. That's why we work with our creative team throughout the website design process so your brand messages are clear on your website.
Whether you are looking for a basic WordPress website or a fully functional E-Commerce platform, we are able to help design and build a website to give your business the platform needed to increase traffic and sales to your website. With a wide range of content management systems (CMS) available, we understand which one will be most suitable for your needs and plan your website accordingly.
Our Web Design Process
Throughout the web design process we work collaboratively with you and your teams to understand the functionality, content and branding requirements to allow the new website to meet those needs. Every website is unique, so we take the time to understand how the website will work for your business and how your staff will be using the website.
We work in an agile way when developing websites, which means we iterate through changes with continuous feedback at every step along the way.  Below outlines the process we follow with website design and build.
To keep you up to date with progress throughout the website design and build process, we utilise a web based ticket tracking project management system so you can easily see what is being worked on and when the expected date of completion is for each piece of work. This platform allows you to contribute throughout the process, provide feedback and gives you full visibility of the work involved.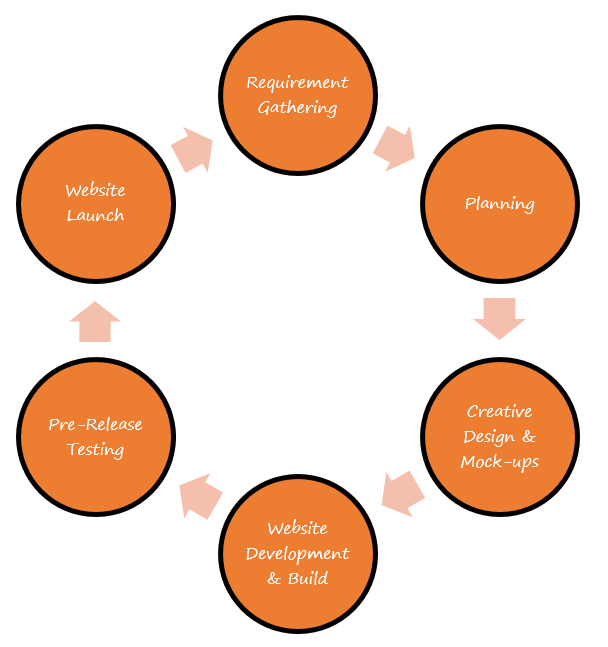 Requirements Gathering
At the outset we work closely with you to fully understand what you are looking to achieve with a new website. From this, we can understand if what you think you want is actually what you really need to help you achieve your goals.
We work to understand the branding, content and functional requirements on the website so the delivered platform meets your needs.
Planning
Once the full requirements have been scoped out, we work this into a project plan for your website. This includes keeping track of work within a digital project management ticketing system which you have access to through a web based portal.
We work closely with your business throughout the process and encourage you to contribute via our project management system to provide continuous feedback. We find this process works best as it allows you to be completely happy with the work produced as we work through the requirements in an agile way.
Creative Design & Mock-Ups
Prior to starting the website development and build phase, we create design mock-ups for how the website will look so you can feedback on what you like and what you don't. We will use our skills, knowledge and experience to produce a design unique to your business and showcases your brand values throughout. Once the creative designs have been signed off, we can use this as a base to feed into the website development phase.
Website Development & Build
At this stage we start developing your website to meet the design, content and functional requirements outlined earlier in the process. We will keep you up to date throughout this process so you can see each piece of work as it is completed.
Pre-Release Testing
Prior to launching your new website to the world we go through a rigorous testing process to ensure all functionality is behaving as expected. This ensures that when your customers see your new website, they see a website that is fully functional and without any glitches.
Release
Once your website has passed our pre-release tests, we are in a position to push your website live for your customers to see. Throughout this process we monitor the website for stability as your customers continue to use.