I wanted to do a quick unboxing blog post on the Ubiquiti UniFi Access Point, AP-AC-Lite, so that you know what you're getting when you make the purchase. This will be a fairly quick blog post.
UniFi Access Point AP-AC-Lite Unboxing
First of all, one thing that really stands out with the quality of the box, how well packaged the device is inside the box and just the general feel of all the hardware your are touching, it just feels good quality. You know what I mean by this if you've handled a lot of different computer and network hardware, you can really tell how well something is made just by having a good touch and feel of it.
The UniFi AP-AC-Lite model from UniFi is their basic entry level access point which is designed for smaller number of clients accessing the access point. The reality is that there is no hard and fast rule for how many clients any access point can handle, you have to use your judgement on this based on the information you have at hand. And even then, you'll probably get it wrong at times even with lots of experience – and that's just the reality of working with IT hardware, sometimes you need to adjust depending on the reality of your use case in the real world.
The Box
One thing that is very noticeable when you get the UniFi Access Point AP-AC-Lite is that the box just feels nice. It feels extremely good quality from both the weight and the texture. It's clear that they have thought a lot about these products right from the outset – even before opening the box.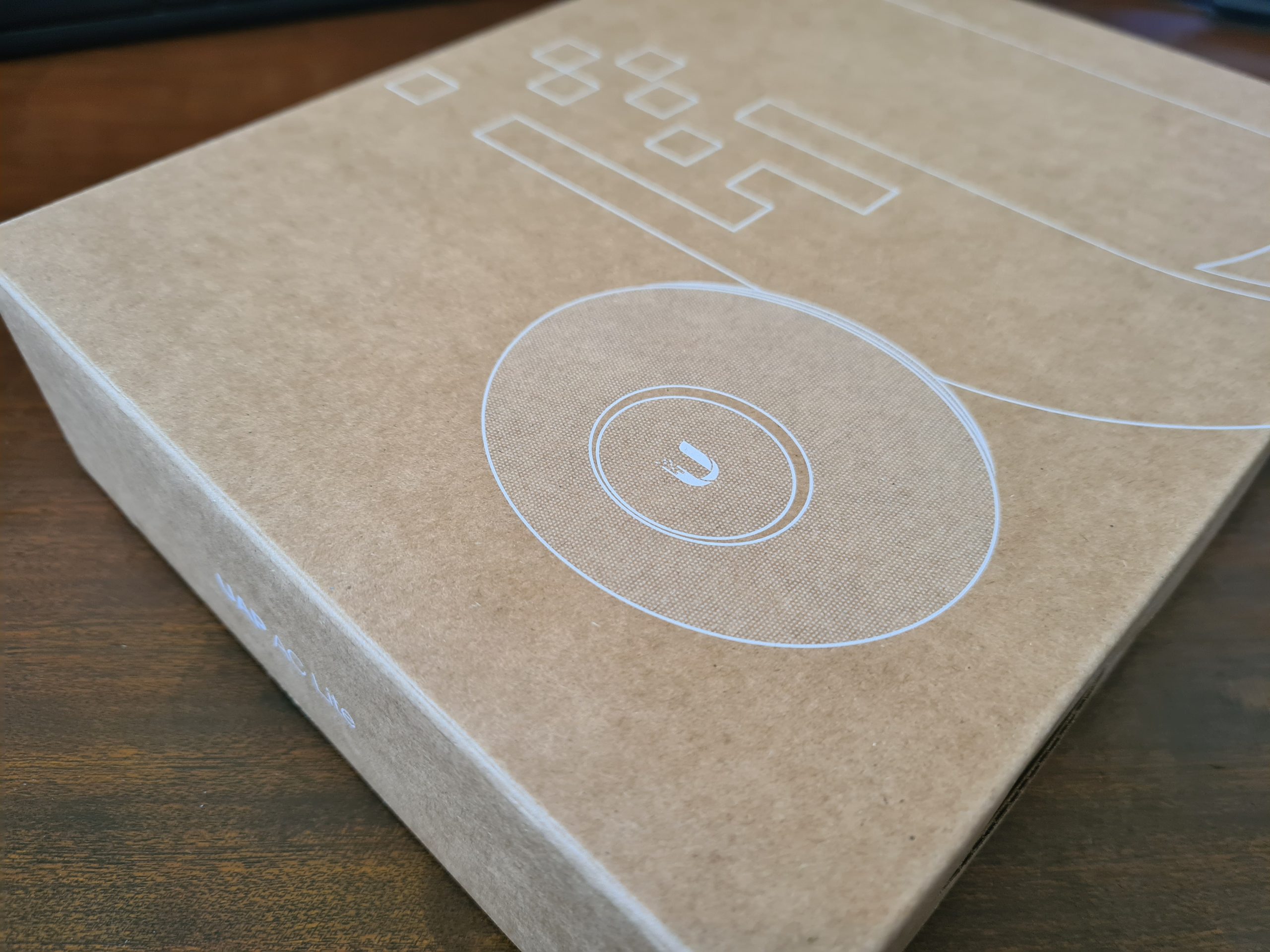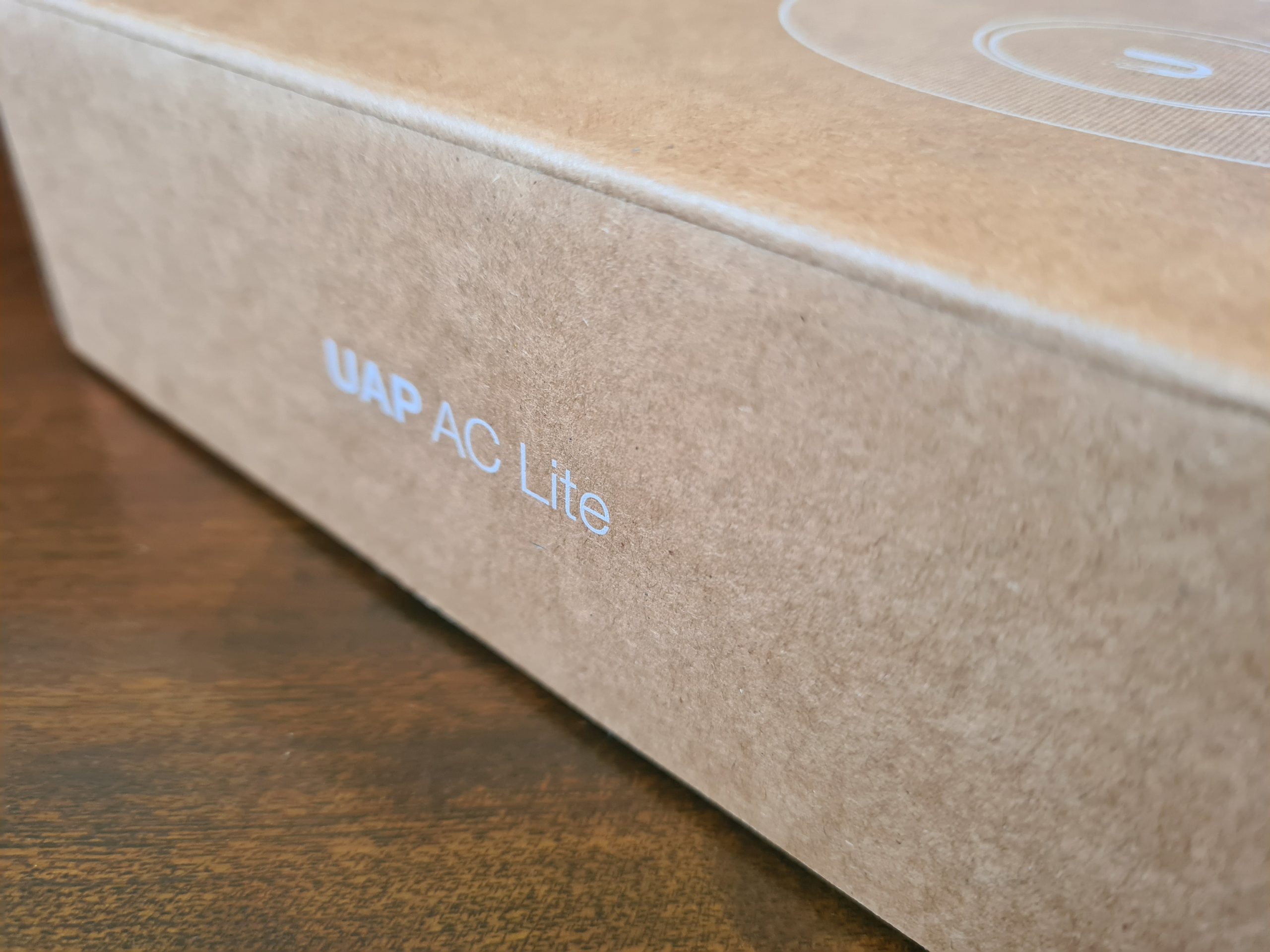 What you'll notice in the image below is some of the core components that are waiting for you inside the box itself. You'll find the UniFi UAP AC Life device itself along with a ceiling/wall mounting kit (including screws) plus a very handy Gigabit Power over Ethernet (PoE) adapter which can come in very useful if you haven't got PoE capable switches (or capacity!) for where you are planning on connecting your UniFi access point to. Quite handy to know is that this UAP AC Lite device is capable of reaching a range of up to 122 meters, aka. 400ft. For larger distances, the Ubiquiti UniFi range of hardware has better devices capable of broadcasting over longer ranges. Always be sure to know as much as you can about the variety of UniFi hardware available prior to making a purchase. Speak to your knowledgeable expert on the topic.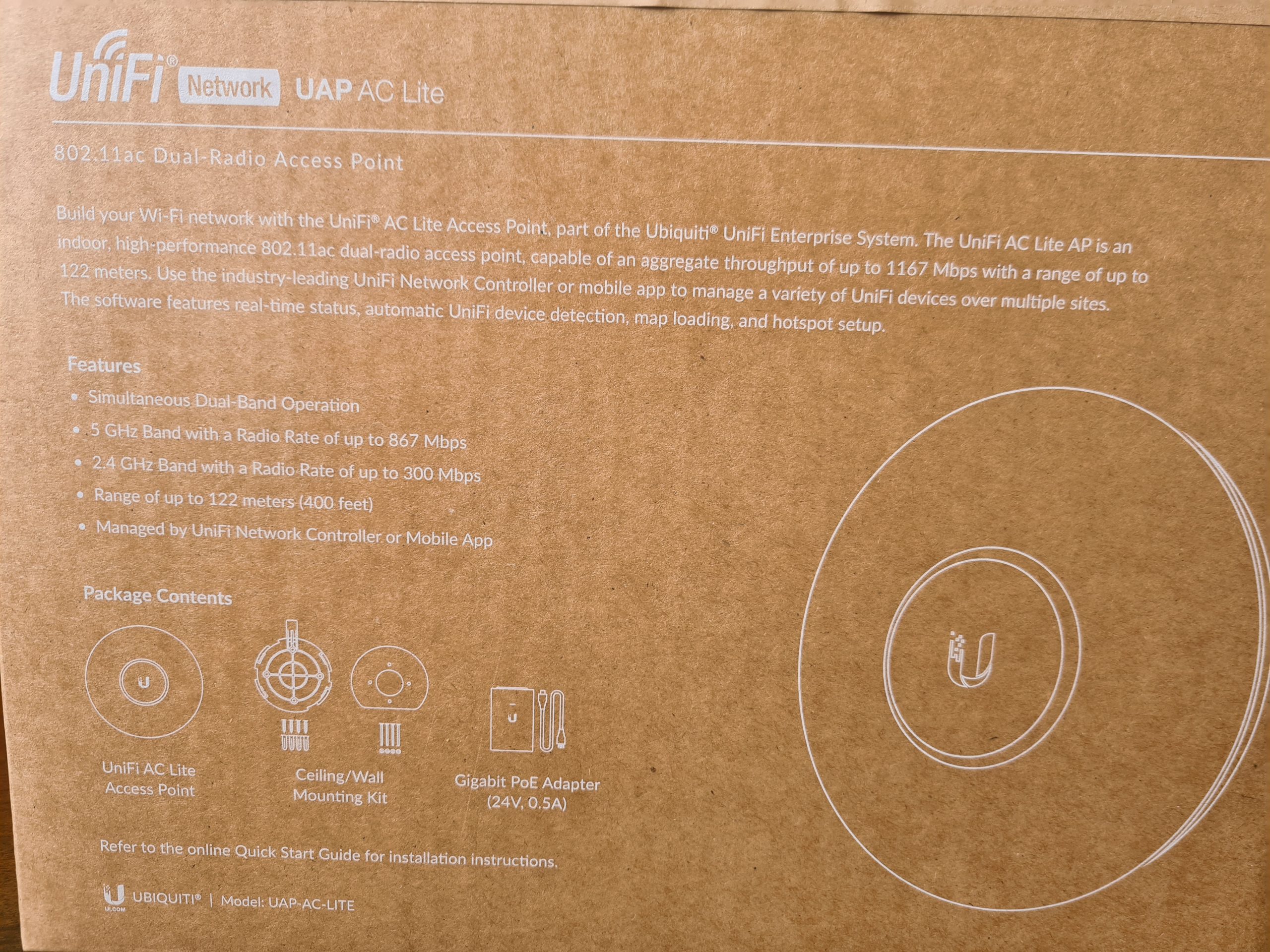 What is a nice little touch on how the UniFi AP-AC-Lite device is boxed up is the Amazon/USA style rip-to-open outer packaging. It is a nice feel that you are opening a product that is being delivered. This being said, it's a huge hope that what is being delivered is suitable for your specific needs. Once opened, the returns policy is going to be very dependent on the local distributor from whom you purchased the device from. Most IT hardware suppliers are happy for you to return hardware as long as it is in a re-saleable condition, and unfortunately this is the only one slight drawback we have about this packaging, that is isn't re-saleable due to the outer packaging design. But hey, the UniFi AP-AC-Lite Wireless Access Point works so well, that it's unlikely that you'll be returning this anyhow.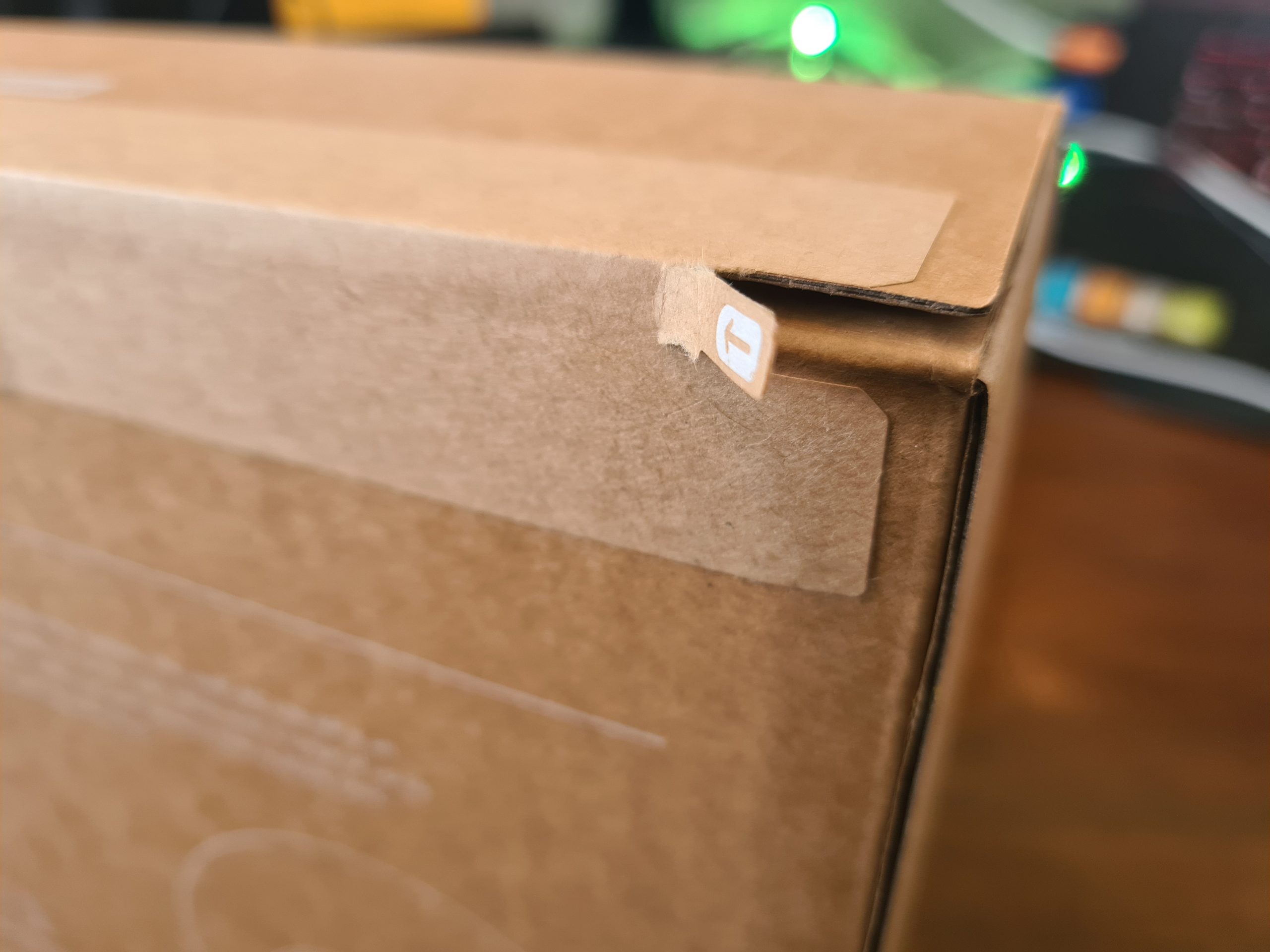 Inside the Box for the UniFi AP-AC-Lite Device
Ok, so here's what we're presented with once we've unpackaged the UniFi AP-AC-Lite wireless access point device. Just to re-iterate, the packaging between the boxed version above and the unboxed version below is extremely well packaged. Super compact and extremely well packaged to manage the terrains of product transit through the worst of delivery companies.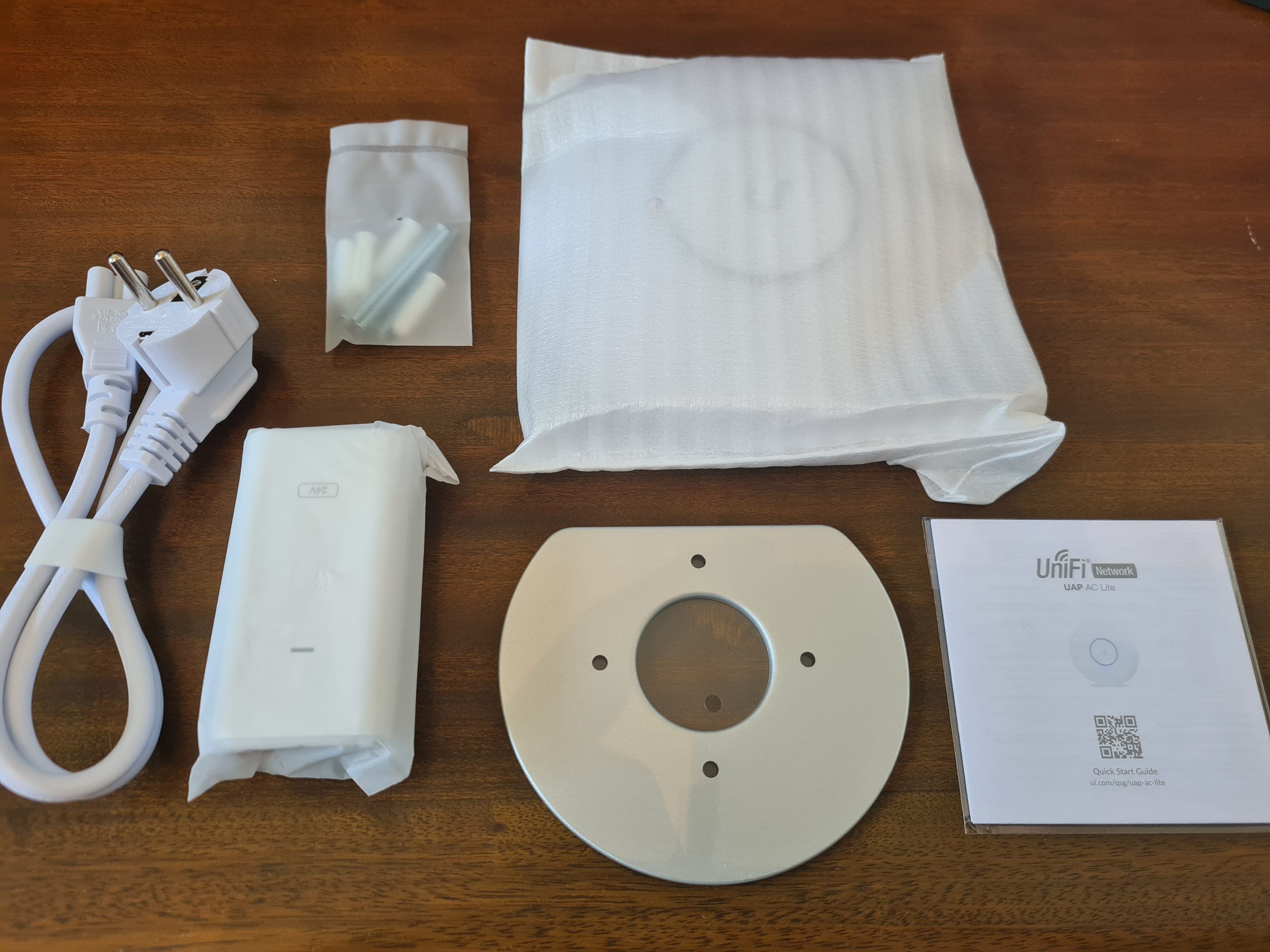 What you'll notice above is that we've got several core items within the product box;
USA Plug Adapter – Great if you're USA based, but not so great if you're UK Based. Thankfully our supplier for IT hardware equipment clearly has an arrangement in place with UniFi to supply a UK Based Plug for the device. Same UniFi branding / look / feel. Not sure if this is standard, but it's just something to keep in mind when purchasing this IT hardware and equipment.
UniFi Power over Ethernet (PoE) Device – This is the device that the above power adapter plugs into. This is potentially a device that you need. And this is because it depends if your managed switch supports PoE technology.  Some devices support this heavily, others partially, and others simply don't support PoE at all – hence why this device is often required in your setup. Personally I think that UniFi could significantly reduce the cost of their product by not shipping this device to their customers. A basic How-To guide for pre-purchase activities to enable customers to understand what they need to purchase under what circumstances would significantly help with this. I'd estimate that this would easily save £15 – £25 off the product cost if they were to implement a more structured purchasing process. Buy hey, I'll leave that with them, if they want to reach our to me to discuss this business operational improvement then they are more than willing to do so.
UniFi AP-AC-Lite Device itself – Kind of self-explanatory
Mounting Point – This is actually quite a nice device that let's you easily secure your device to the wall or ceiling. As you'll see later there is a handy detachable panel beneath the UniFi AP-AC-Lite access point that allows you easily connect this panel to the panel that attaches to the wall.
Screws and Wall/Ceiling Plugs – Very handy so that you don't have to source the specific sizes/lengths/width of screws and wall plugs to get the device attached to the location that you are looking to get this attached to. The reality is that these default screws are only a best guess, so it's highly likely that you will need to source the specific screws and plugs that are relevant to where you are attaching the device to. But it's a nice touch from Ubiquiti for common use cases.
Hardware Specifics
The Ubiquiti UniFi AP-AC-Lite Device;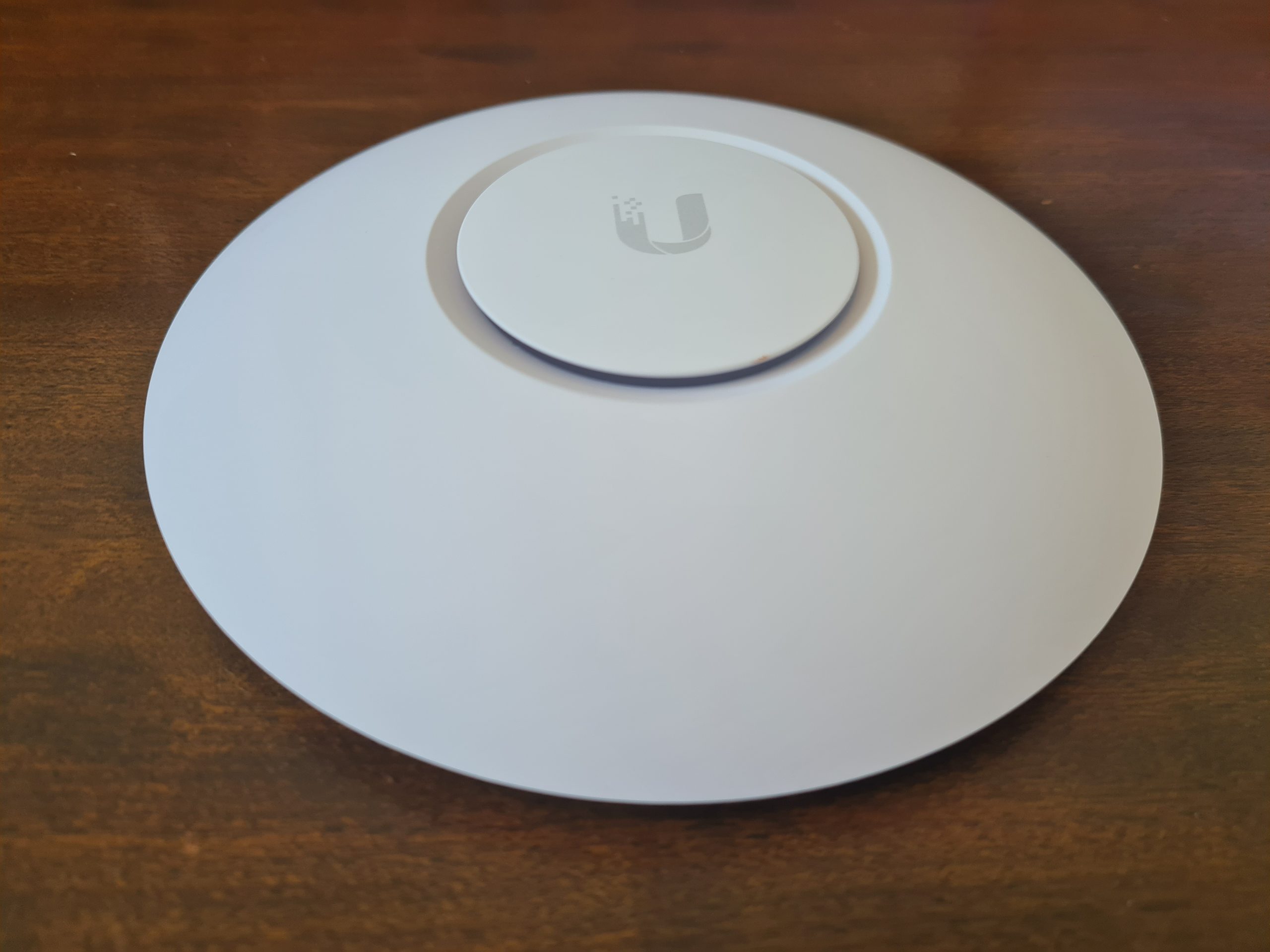 The device only has a single port and that is the RJ-45 port that allows you to connect the device to your network. And this is important as we briefly touched on earlier. This very much depends on if your network, or more importantly your managed switch, can support Power over Ethernet PoE technology or not. Depending on your answer to this question to yourself, you should be able to assess how this device is plugged into your network.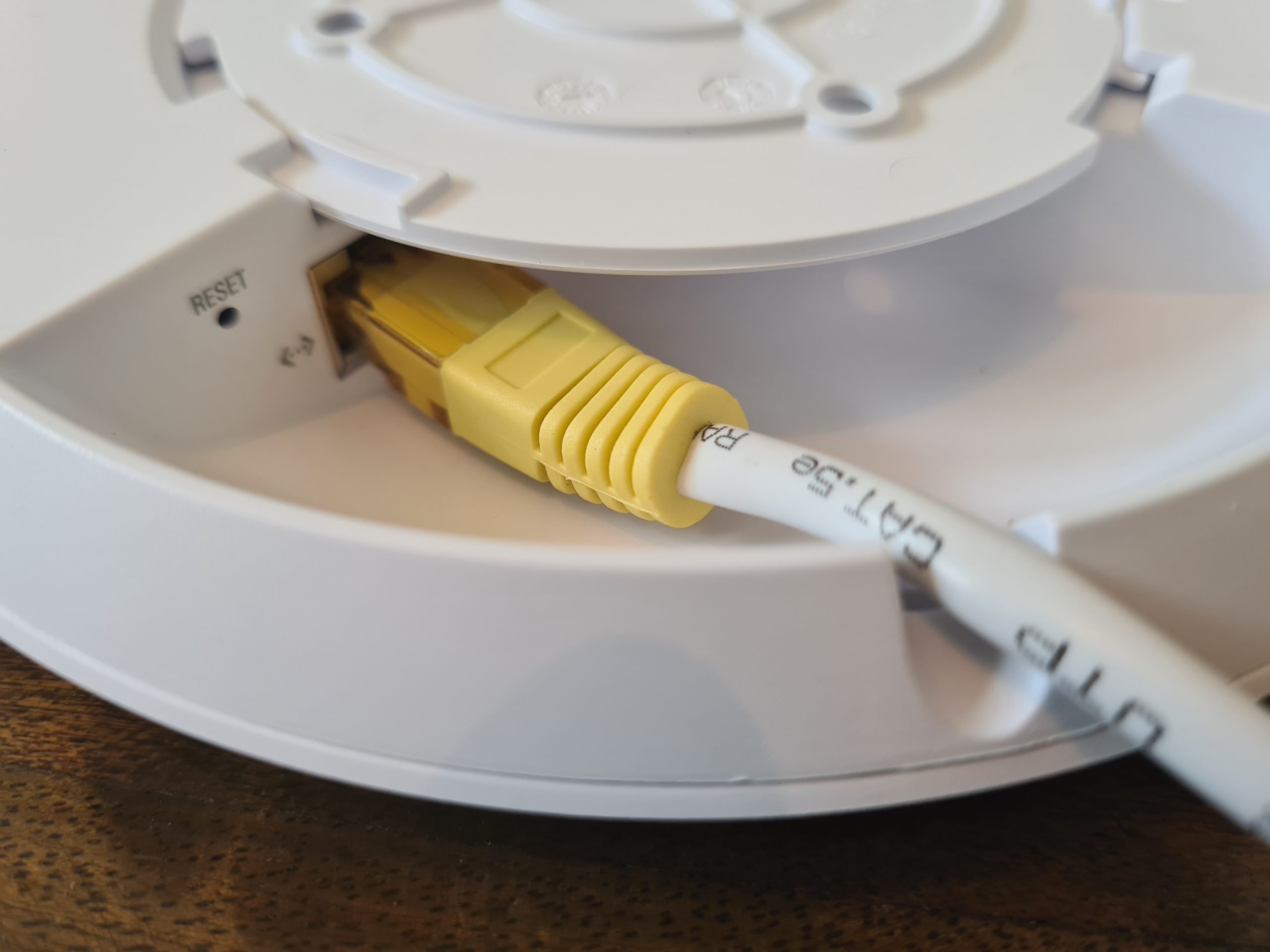 One handy feature is the small notch in the edge of the device that allows the ethernet cable to fit in the notch so the device can lay flat against your wall or ceiling.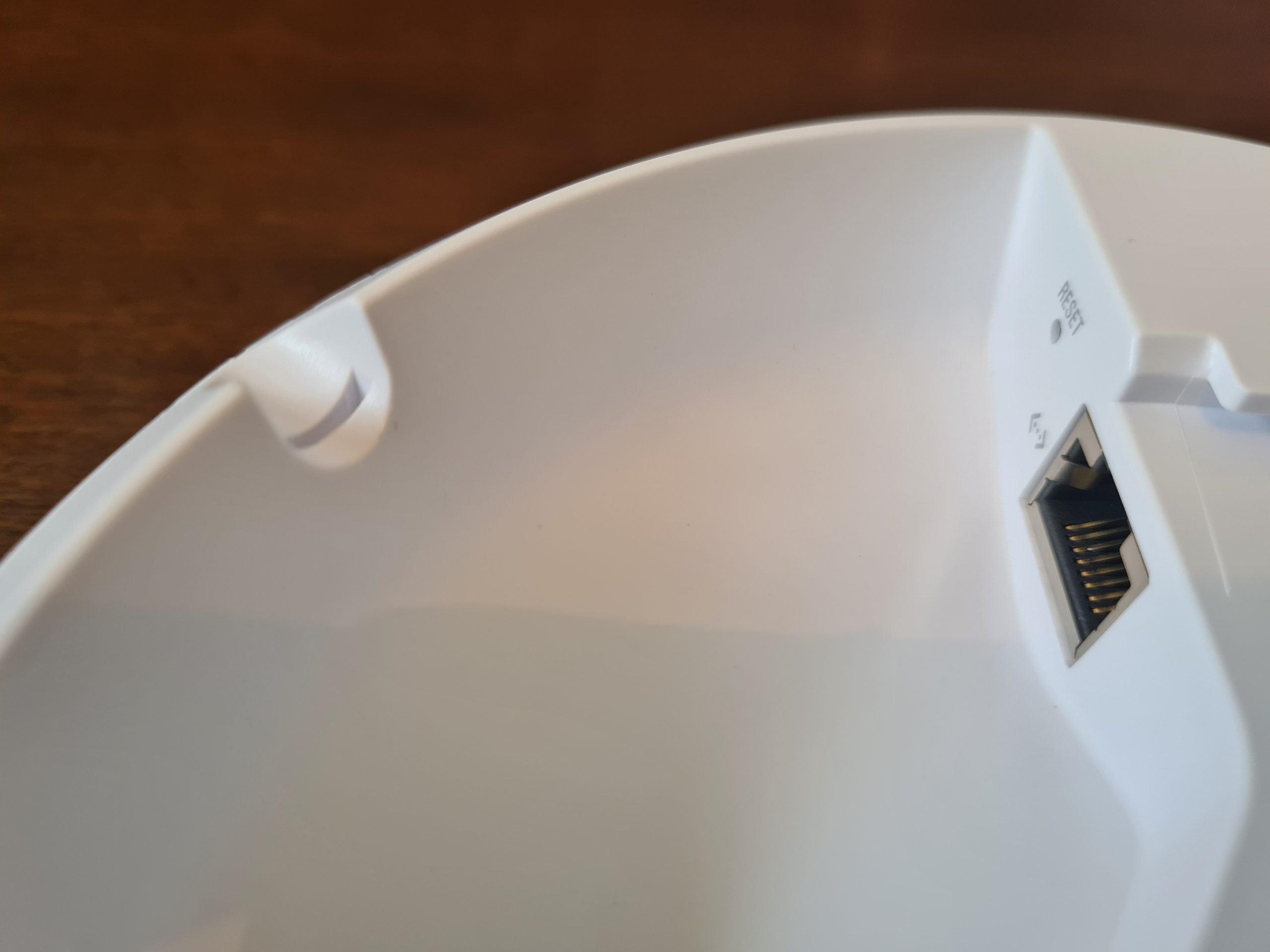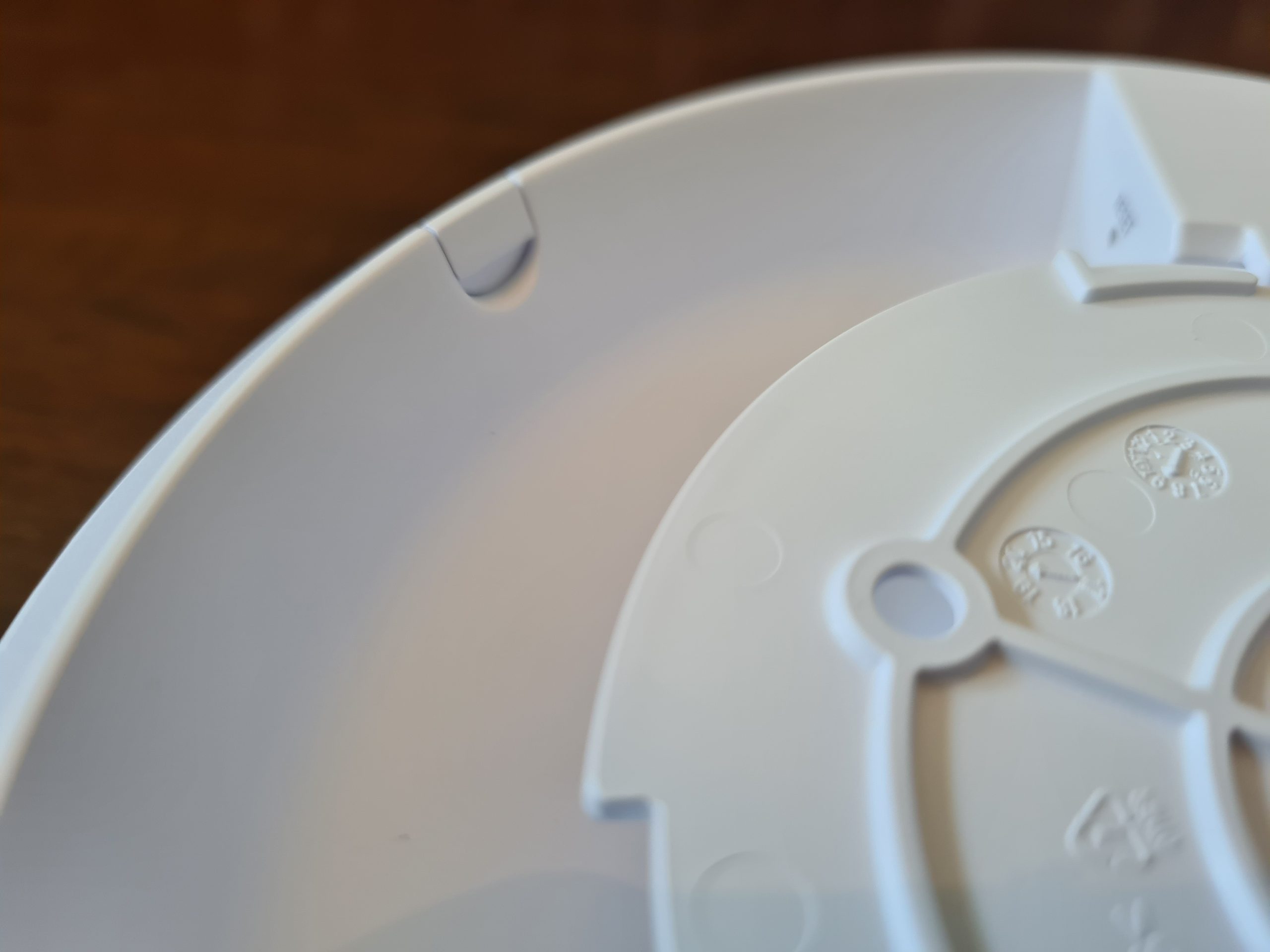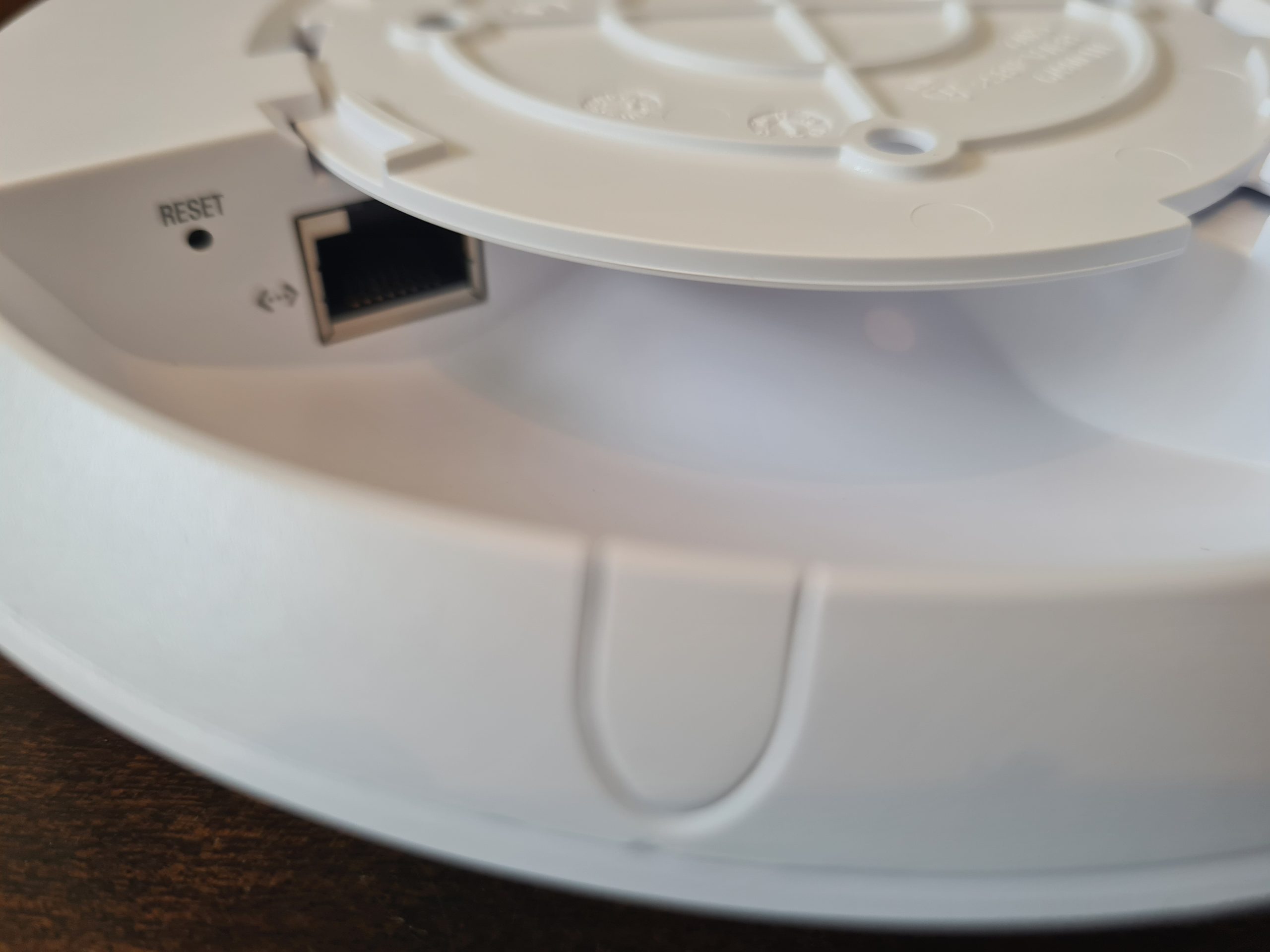 One item to note around how the inner disk connects to the main device is that once it is in place, it's very tight to remove. When you are removing this when it isn't wall mounted, this isn't really an issue as you can easily get a small screwdriver or knife to unclip it. But you'll notice that once this is connected to the wall or ceiling, you've only got a really tiny gap to get something in that is about 2mm tall, 5mm wide, and about 1cm deep – so you'll probably need something like a paperclip to unhinge this once it's connected to the wall.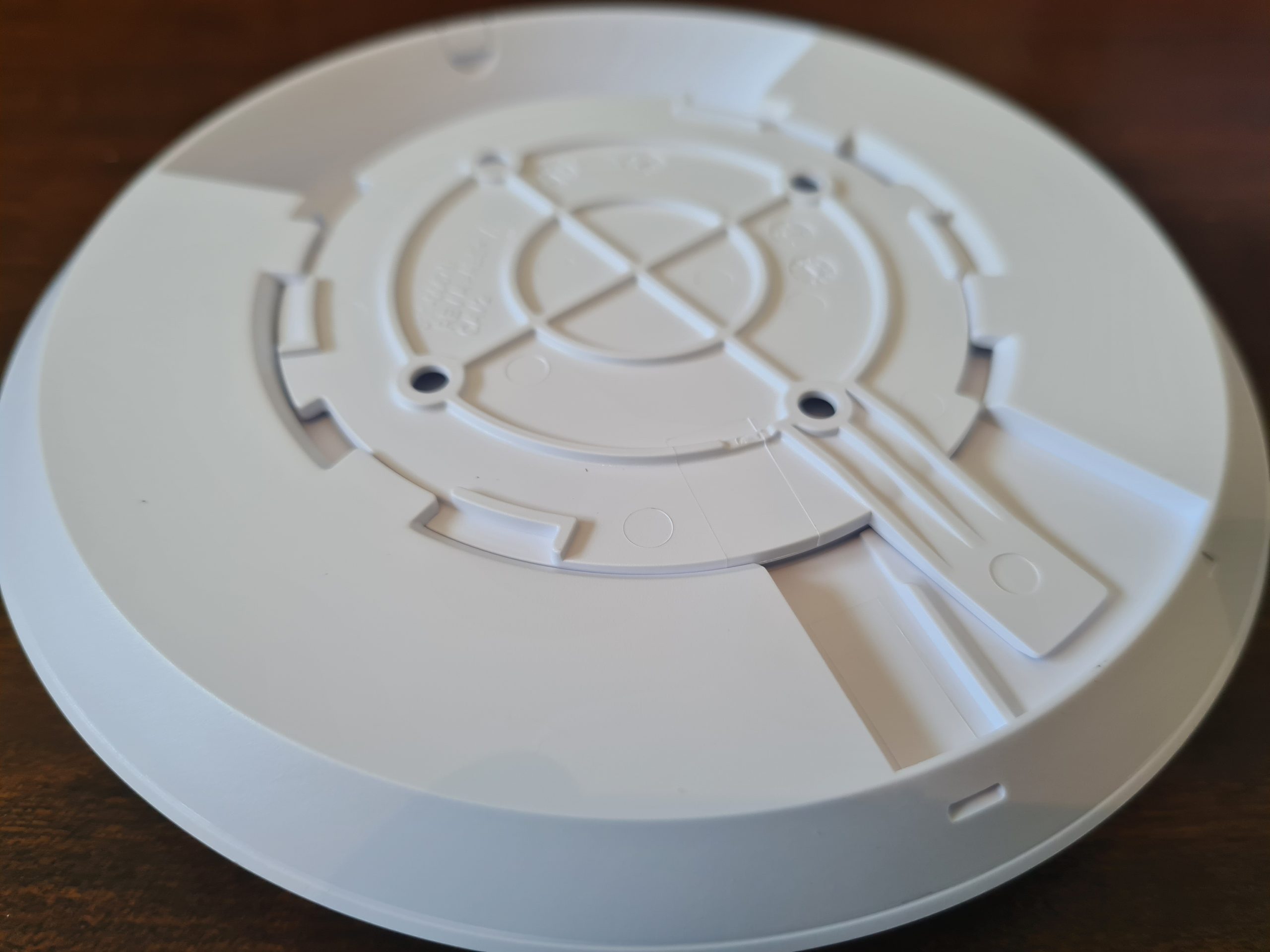 Below you'll see the Power over Ethernet (PoE) device.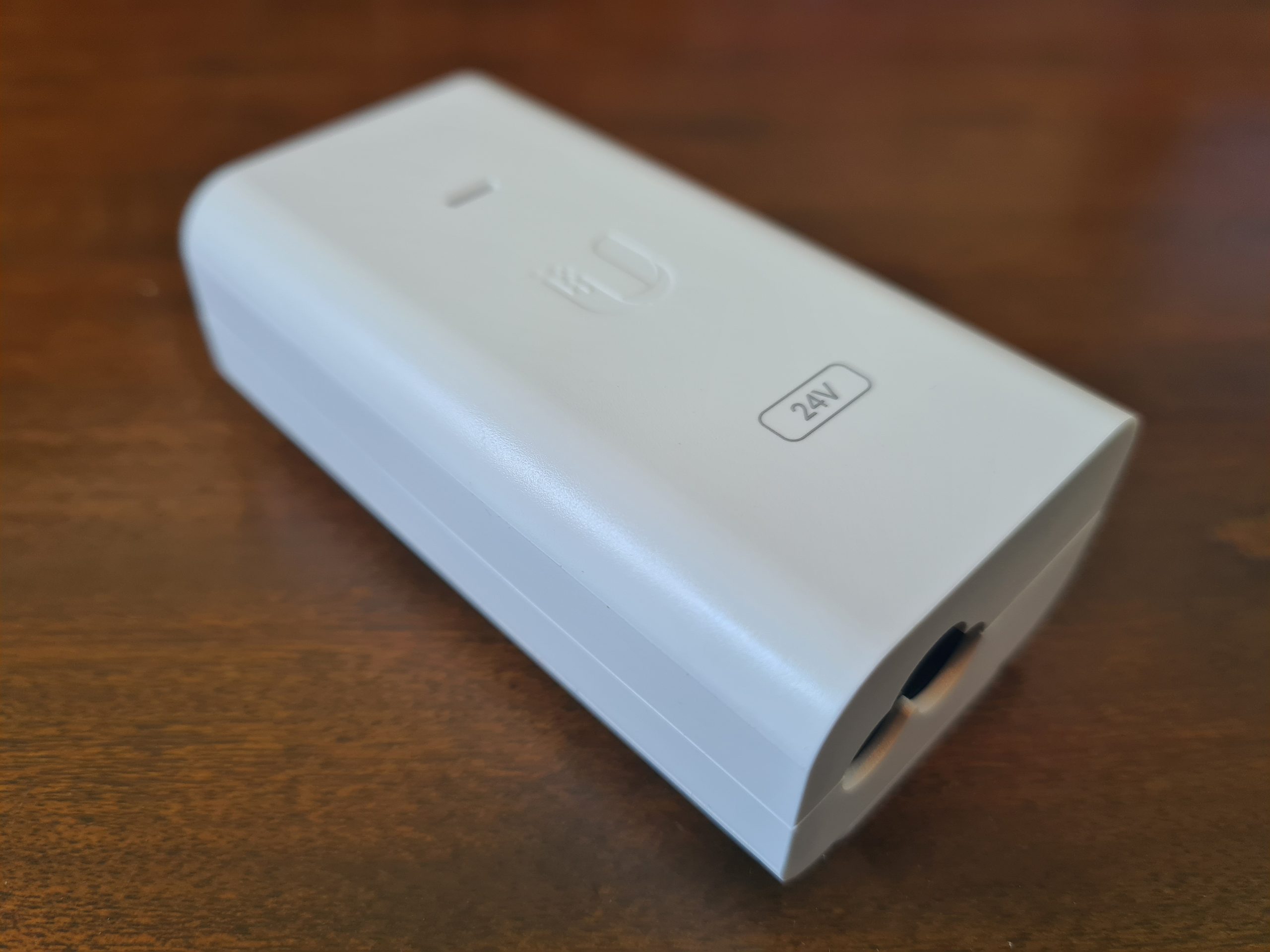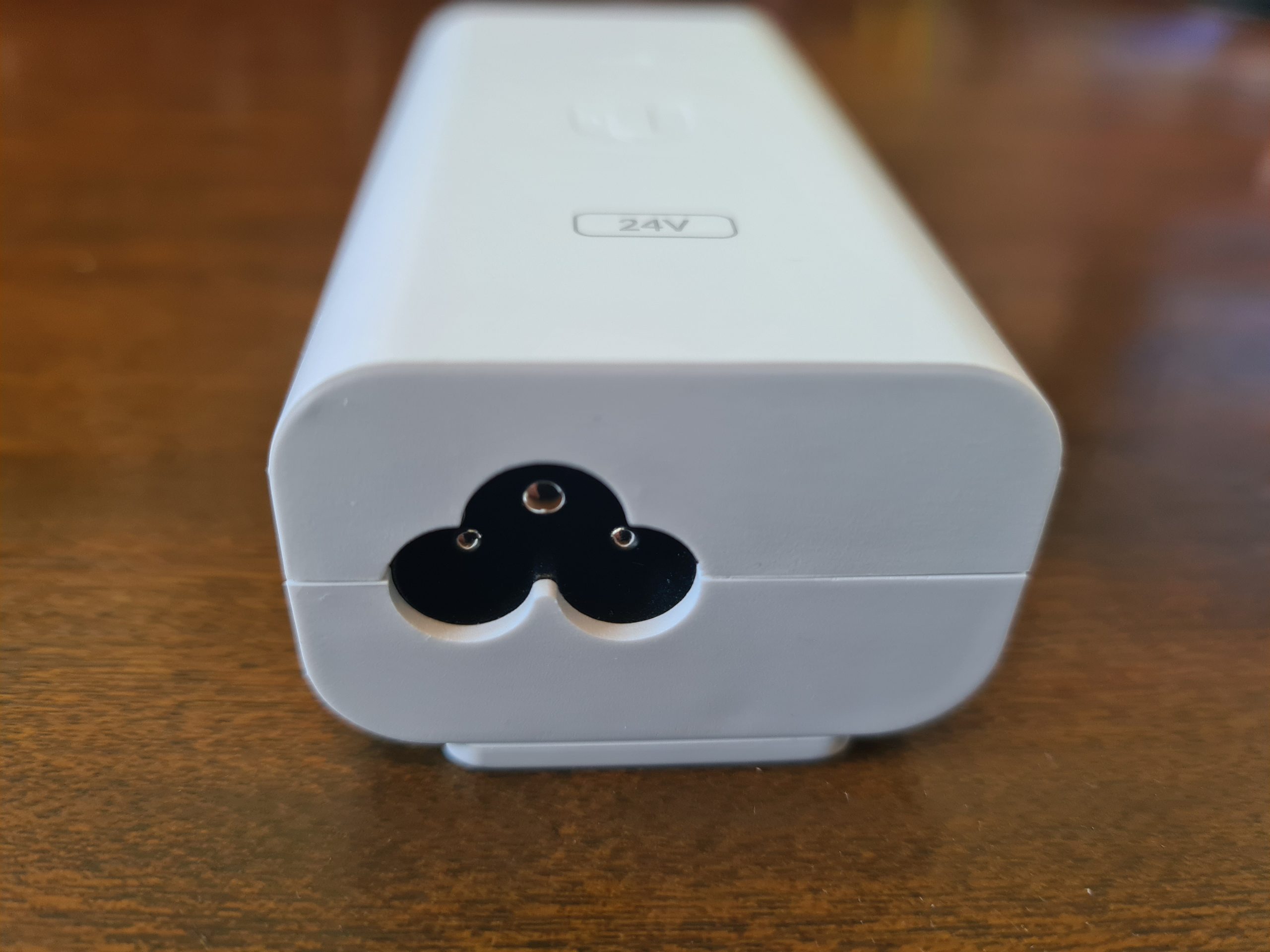 For connecting your PoE device to your UniFi AP-AC-Lite wireless access point, you'll need to make sure you plug the ethernet cable into the PoE port on the left as that one contains power. The LAN port is where you plug in your ethernet cable that connects to your switch or router or firewall. If you have a managed switch with PoE ports, then you don't even need to use this device unless you're running our of power availability. But it's nice that they have this as an option straight out of the box for you.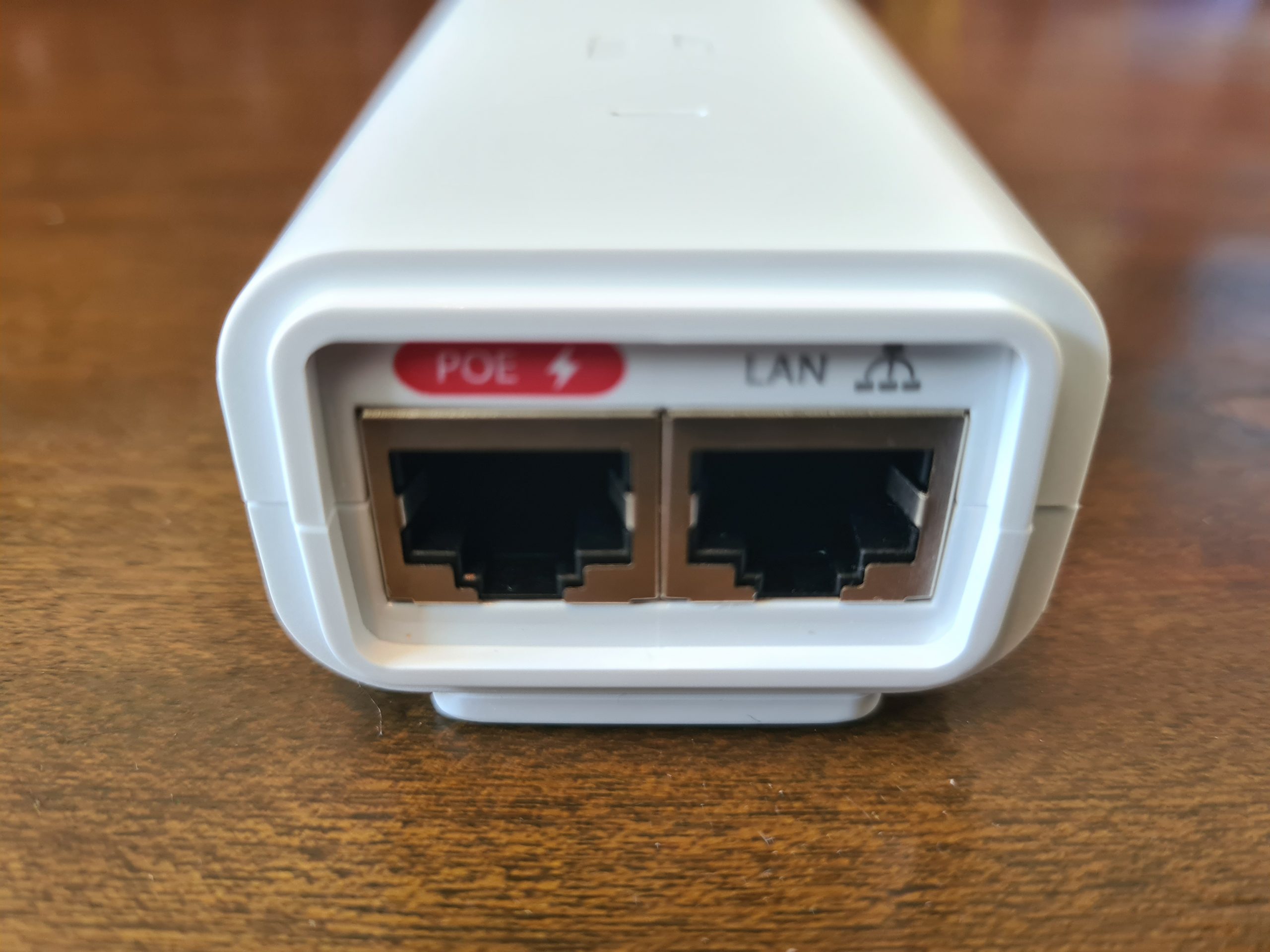 Another USA power lead going onto eBay…. 🙂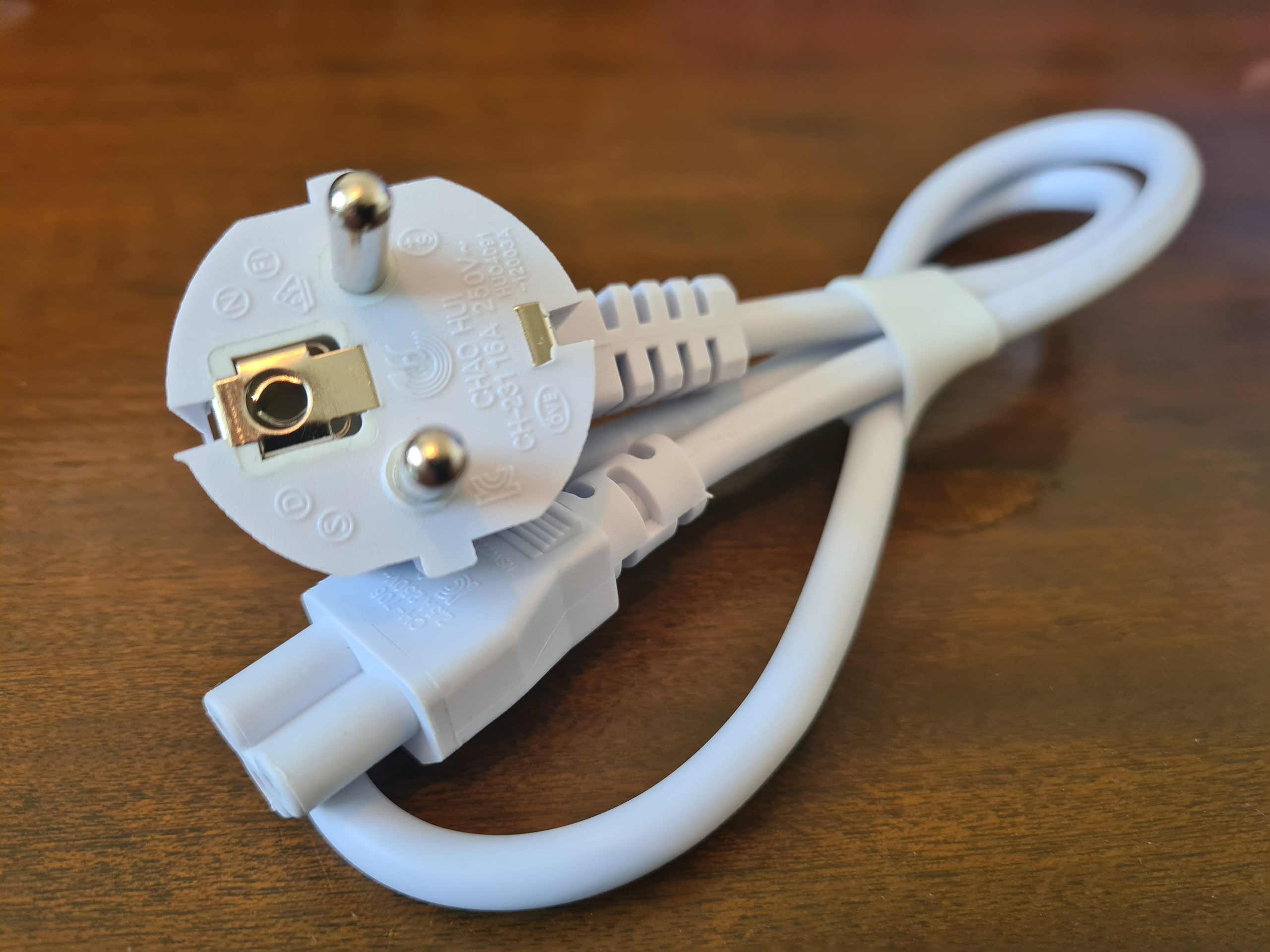 Ok, so that's all the contents of the box for your new UniFi AP-AC-Lite wireless access point.
Statistics and Data from UniFi AP-AC-Lite Wireless Access Point via UniFi Controller
For completeness, let's look at some of the handy bits of data that you can see within your UniFi Controller software against your wireless access point once you've got it plugged in and configured.
WiFi Traffic Distribution Statistics

WiFi Experience Statistics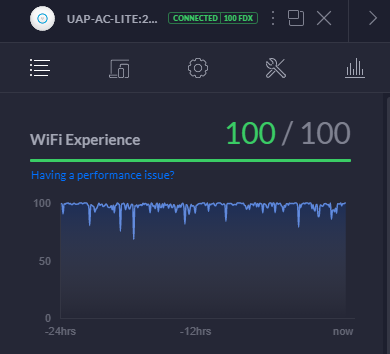 WiFi Clients Chart

Uplink Statistics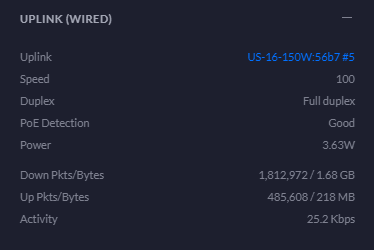 Time to Associate Graph

Showing Devices Connected to wireless access point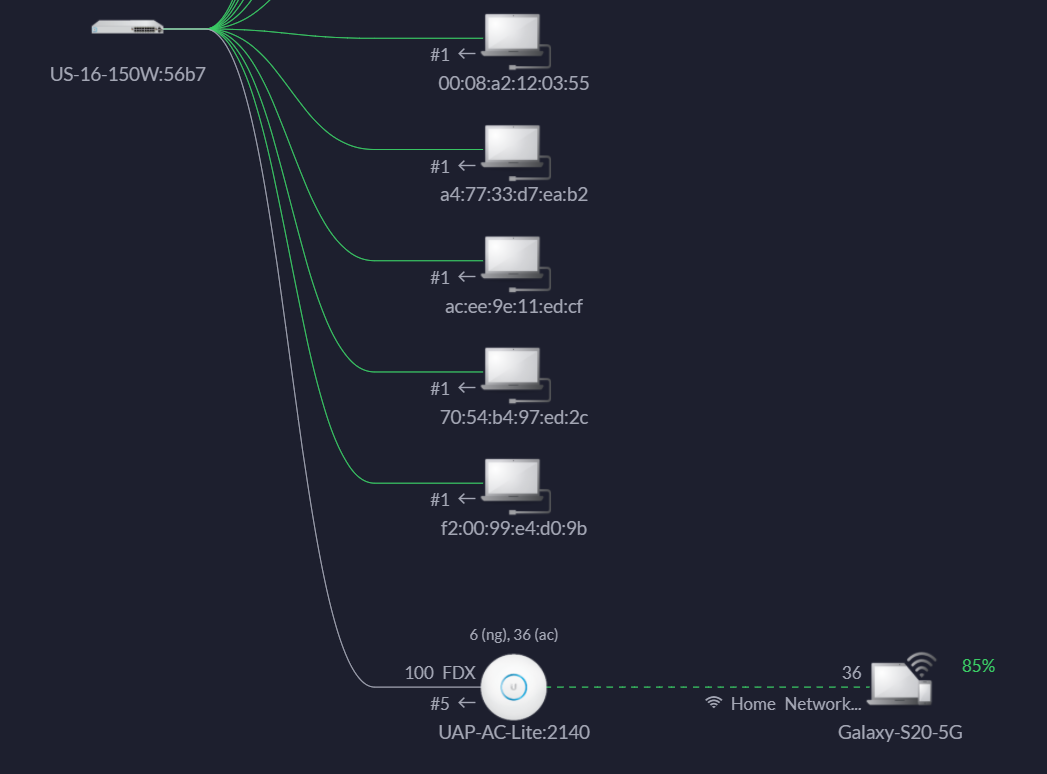 RF Environment 5G Statistics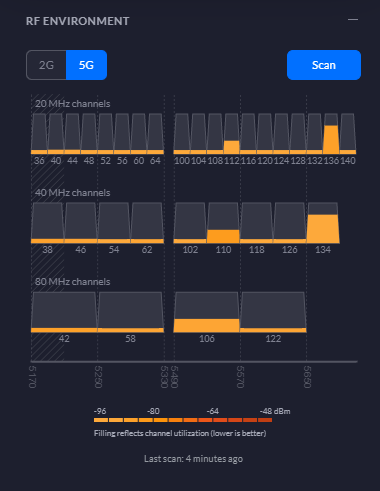 RF Environment 2G Statistics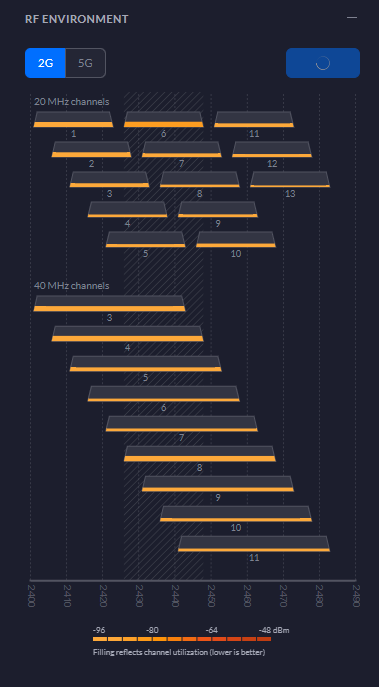 Access Point Retry Rate Chart

Radios Statistics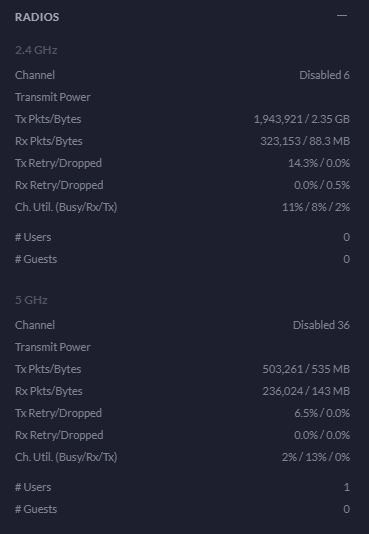 Overview Statistics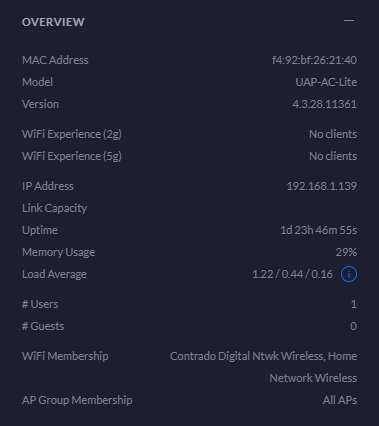 Dropped Packets Chart

CPU and Memory Usage Chart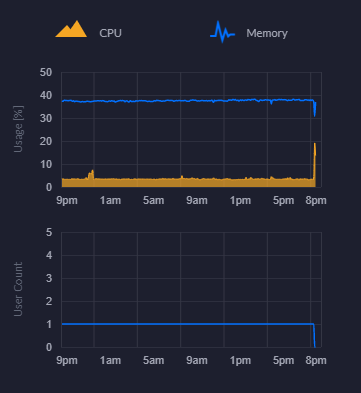 Connected Clients Statistics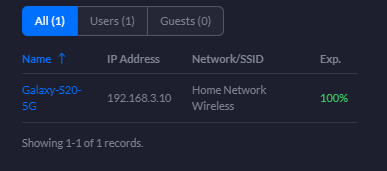 Channel Utilisation Statistics
This is a really handy piece of information from a planning perspective. You can easily use this information to plan your capacity based on real world usage. As you start to reach the higher limits of the hardware, it's time to start planning an upgrade to hardware that is better suited to larger numbers of users. For context, the chart below is with a single mobile device connected.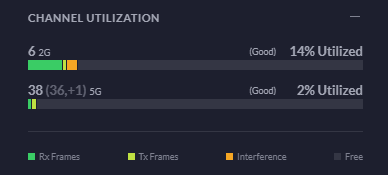 Association Failures Statistics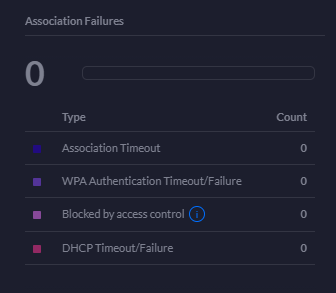 2G WiFi Charts – Channel Utilisation, Dropped Packets, Retries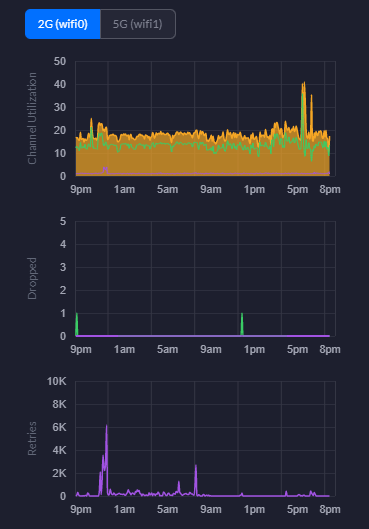 5G WiFi Charts – Channel Utilisation, Dropped Packets, Retries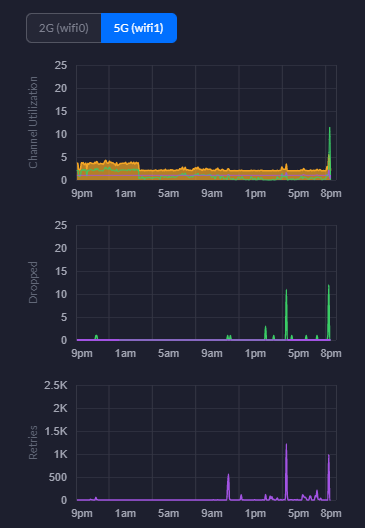 Hopefully that gives you a good idea about what's in the box and what's out of the box once you've got everything set up and configured within your network.
The following two tabs change content below.
Michael has been running Contrado Digital for over 10 years and has over 15 years experience working across the full range of disciplines including IT, Tech, Software Development, Digital Marketing, Analytics, SaaS, Startups, Organisational and Systems Thinking, DevOps, Project Management, Multi-Cloud, Digital and Technology Innovation and always with a business and commercial focus. He has a wealth of experience working with national and multi-national brands in a wide range of industries, across a wide range of specialisms, helping them achieve awesome results. Digital transformation, performance and collaboration are at the heart of everything Michael does.
Latest posts by Michael Cropper (see all)