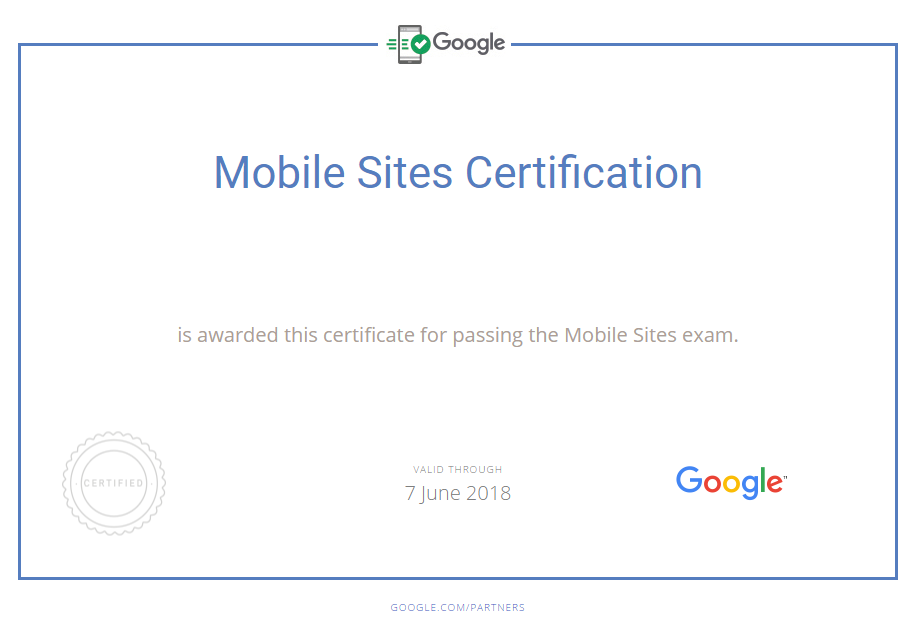 Well, this is a bit of great news for Contrado Digital. We've passed Google's brand new Mobile Sites Certification and we believe we are the first in Lancashire to do so! This certification highlights that the mobile websites we develop are done to an extremely high standard to ensure your customers are happy customers when they visit your website. While what the non-technical users may just see as a "pretty website", actually there is an awful lot going on behind the scenes, technologies, systems, processes, best practices and more that we know about so you don't have to. We always say that any monkey can build a mobile website. Very few can build a mobile website that is designed to perform for your business. Whenever you are investing in a mobile website or a responsive website, make sure you are working with the right digital partner who knows what they are doing.
Want to chat about optimising your website for mobile devices? Then fill out your details on our contact form and let's talk through the various options available to you within your budget.
The Mobile Sites Certification exam is designed to test your knowledge of advanced mobile website concepts, including the following:
Value proposition of mobile websites
How to improve mobile website speed
How to create an effective user experience for mobile websites
Advanced web technologies
Module 1: Mobile sites and why they matter

1.1. Basics of mobile sites
1.2.1 User expectations
1.2.2 Impact on conversions and interaction
1.2.3 Why UX matters
Discoverability

Module 2: Improving mobile site speed

2.1.1 Tools to get started
2.1.2 Understanding low bandwidth and high latency
2.1.3 Targets to focus on
2.2 Critical rendering path
2.2.1 Constructing the document object model
2.2.2 The render tree
2.2.3 The layout
2.2.4 Analysing the entire CRP in dev tools
2.2.5 Optimising the critical rendering path
2.3 Optimise content efficiency
2.3.1 Eliminating unnecessary downloads
2.3.2 Optimising encoding and transfer size
2.3.3 Image optimisation
2.3.4 Webfont optimisation
2.3.5 HTTP Caching

Module 3: Creating an effective mobile UX

3.1 UX principles
3.1.1 Assess your mobile site
3.1.2 Learn what makes a good mobile site
3.2 Mobile site design best practices
3.2.1 Homepage and site navigation
3.2.2 Site search
3.2.3 Commerce and conversions
3.2.4 Form entry
3.2.5 Usability and form factor
3.3 Testing and measuring success
3.3.1 A/B testing
3.3.2 Measuring success with Google Analytics and metrics to focus on

Module 4: Advanced web technologies

4.1 Introduction to Accelerated Mobile Pages
4.1.1 What is AMP
4.1.2 How AMP works
4.2 Introduction to Progressive Web Apps
4.2.1 Why build PWAs
4.2.2 Introduction to the app shell architecture
4.2.3 Introduction to service workers
4.3 User engagement and APIs
4.3.1 Intro to web push and notifications
4.3.2 Payment integration
Take the Mobile Sites exam
The following two tabs change content below.
Michael has been running Contrado Digital for over 10 years and has over 15 years experience working across the full range of disciplines including IT, Tech, Software Development, Digital Marketing, Analytics, SaaS, Startups, Organisational and Systems Thinking, DevOps, Project Management, Multi-Cloud, Digital and Technology Innovation and always with a business and commercial focus. He has a wealth of experience working with national and multi-national brands in a wide range of industries, across a wide range of specialisms, helping them achieve awesome results. Digital transformation, performance and collaboration are at the heart of everything Michael does.
Latest posts by Michael Cropper (see all)