Digital technologies, online marketing and cyber security is at the forefront of the world we live in for businesses looking to connect with their customers, grow their market share and keep customer data secure from cyber criminals. What this means is that many of the services we offer can often be confusing to businesses who aren't heavily involved in this work on a day to day basis. That's why we've hugely simplified our service offering to help businesses like yourself understand what we actually do and most importantly, how we can help your business grow.
Sectors We Help
We work with businesses of many varying shapes and sizes. We understand the following industries through and through which means that if you are working in one of these industries, then we can help your company with digital services;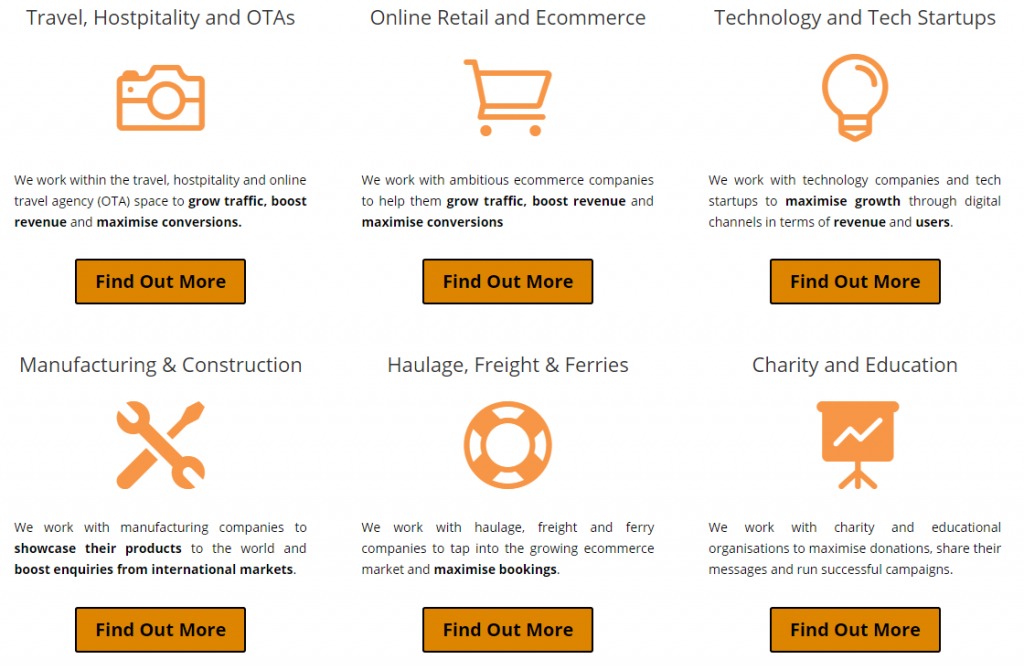 What We Actually Do
In essence, we do three core activities, we build things, we make them perform with digital marketing and we keep your customers data secure online.

Quality Services
As can be seen as you browse around the website, high quality work with a results driven focus is at the forefront of what we do as we work in partnership with companies like yourselves who are ready to take your business to the next level. We don't built cheap websites and we don't offer cheap discount services because quite simply, you get what you pay for when working with cutting edge technology for your business. We pick up a lot of projects when others have failed to deliver.
Ready to take your business to the next level? Then drop me an email directly, michael.cropper@contradodigital.com. I'd be happy to meet for a no obligation consultation and talk through where you are looking to take your business over the next 12 months and how we can help you along that journey.
Speak soon
Michael Cropper
Managing Director
The following two tabs change content below.
Michael has been running Contrado Digital for over 10 years and has over 15 years experience working across the full range of disciplines including IT, Tech, Software Development, Digital Marketing, Analytics, SaaS, Startups, Organisational and Systems Thinking, DevOps, Project Management, Multi-Cloud, Digital and Technology Innovation and always with a business and commercial focus. He has a wealth of experience working with national and multi-national brands in a wide range of industries, across a wide range of specialisms, helping them achieve awesome results. Digital transformation, performance and collaboration are at the heart of everything Michael does.
Latest posts by Michael Cropper (see all)