In the latest release of WHM comes a seriously handy tool which allows domains within one cPanel account to be migrated to their own cPanel account. In an ideal and perfect world, every domain would be contained under its own cPanel account as this allows much more granular reporting when using tools such as New Relic or command line resource usage commands such as atop. In reality though when dealing with many different web servers which have a lot of history and often non-optimal configurations, often you find that multiple domain names are contained within a single cPanel account. This is bad for a whole host of security reasons, primarily because if one website gets hacked into, it's possible to access all of the websites under the single cPanel account which is an inherent risk. And if those websites are WordPress, if they get hacked into after then have been built badly or aren't maintained securely then a quick install of a certain plugin allows the hacker to gain access to absolutely every file under this cPanel account. So it's really important to structure your web servers for optimal security.
So now that's clear, here's how to use the Convert Addon Domain to Account tool within WHM.
Convert Addon Domain to Account within WHM
Open WHM and navigate to Home > Transfers > Convert Addon Domain to Account. This will list all Addon Domains listed within all cPanel accounts on the server. Select the one you wish to migrate to its own account and press "Convert";

Here you will then be presented with a list of options. Make sure you check through everything and make a note of what the new settings are.
Create an account name for the new cPanel account;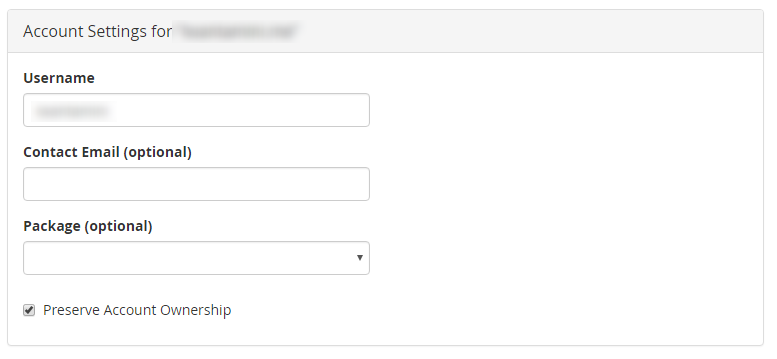 Check through your settings which have been automatically selected;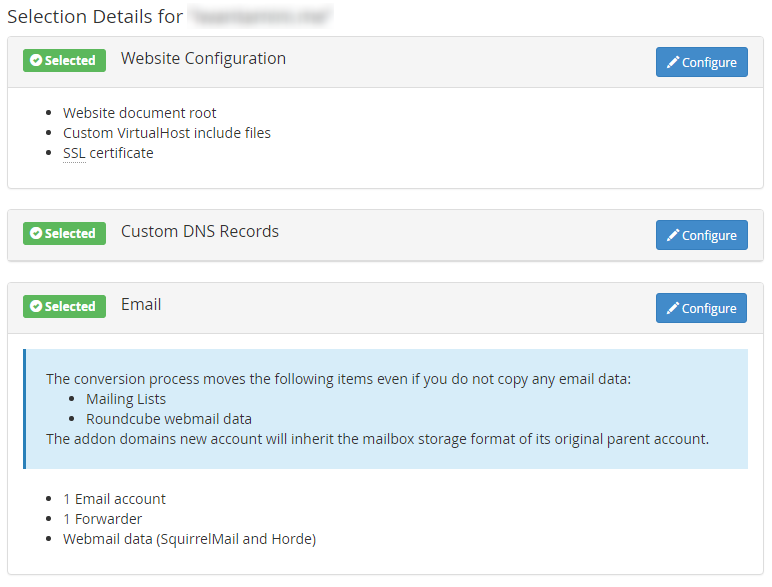 What likely hasn't been picked up by default is your database table(s) so make sure you click on the Configure option and select which databases belong to the website being transferred to its new account.

Then let it do its thing by clicking on the Start Conversion button. Depending on the size of your website will depend on how quickly, or slowly, this transfer happens. Once everything is completed you'll see a completion message along the lines of;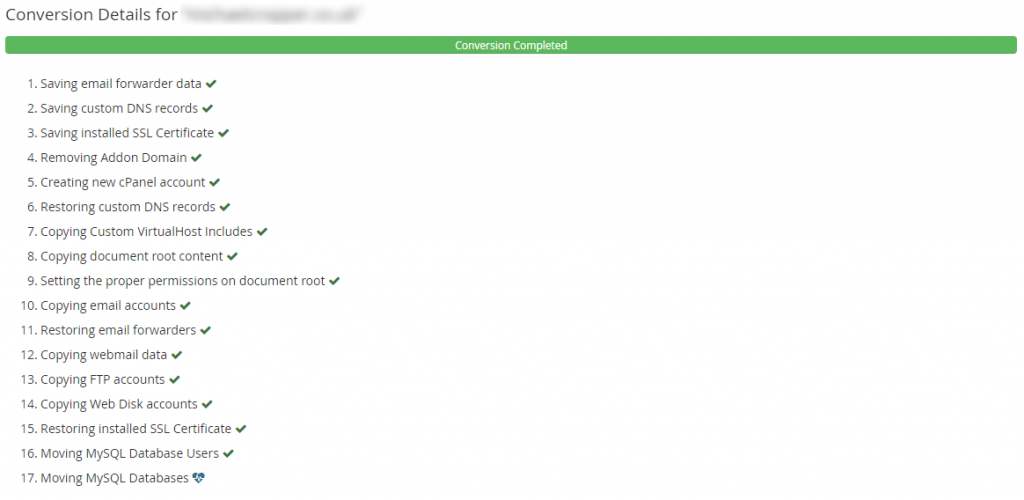 Transfer Complete
It really is as simple as that to use. Once the migration is complete you'll need to modify the password for the account via WHM;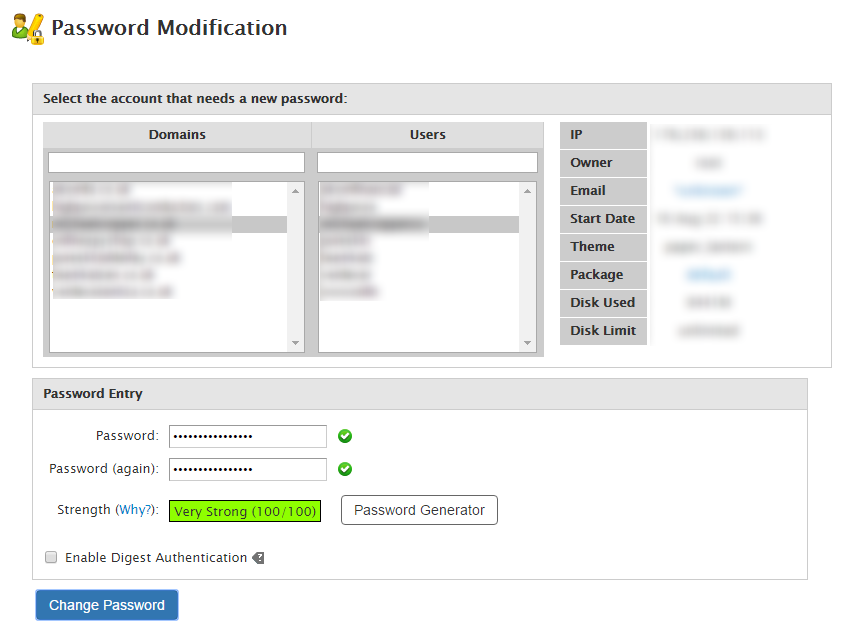 Performance Challenges
While this is a great tool, something to mention is around performance. Performance wise for one project we were working on, the resources completely maxed out on one web server and took a total of 90 minutes to migrate a small website of around 10GB in size for files and databases. This is something to bear in mind and it's probably best that you run these kinds of migrations at low points during the day to prevent issues impacting people using the websites in question. Below are a select of screenshots which clearly shows the performance difference at a normal point in time compared to when the process was running to put this into perspective.





Summary
All domains should be under their own cPanel account for security reasons. If you have multiple domains contained under a single cPanel account, start to get things set up properly as they should be. Recovering one hacked website is time consuming and costly enough for you as a business, recovering multiple just multiples the problem. Do not leave this until it is too late. If you are unsure how your web server infrastructure should be set up then get in touch and we can help you with getting things set up correctly.
The following two tabs change content below.
Michael has been running Contrado Digital for over 10 years and has over 15 years experience working across the full range of disciplines including IT, Tech, Software Development, Digital Marketing, Analytics, SaaS, Startups, Organisational and Systems Thinking, DevOps, Project Management, Multi-Cloud, Digital and Technology Innovation and always with a business and commercial focus. He has a wealth of experience working with national and multi-national brands in a wide range of industries, across a wide range of specialisms, helping them achieve awesome results. Digital transformation, performance and collaboration are at the heart of everything Michael does.
Latest posts by Michael Cropper (see all)