Welcome to 2016. After reviewing the physical post received for the first week back in the office, I can only sit here with my head in my hands pondering why businesses are still failing to grasp how fast the world is really moving around them and adapt accordingly. We've our usual tips and advice blog post on their way for what you need to be focusing on in 2016 for your digital strategy, but in the meantime I feel the need to express my opinion on the state of what can only be described as utter junk that had been posted out to me and the company. Please, just stop.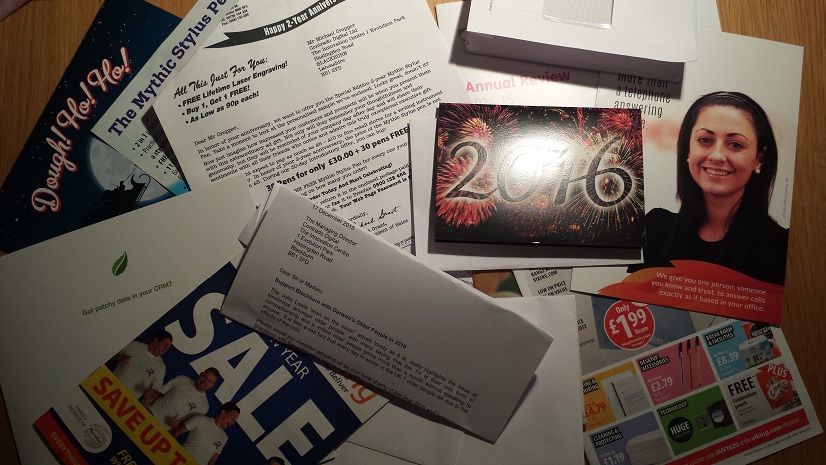 As you can see above, this is just a small selection of the garbage that was received, promotional pens labelled as "The Mythic Stylus Pen", OK, I'm sure I know what one of these is, it's not a unicorn walking down the street of Manchester blowing rainbows from its backside for f. sake. Sale catalogues, promotional material, wall planners, seriously who uses wall planners in 2016? Come on folk, please stop this. All of this junk received went straight into the bin. Stop wasting your money on junk and start to market your business effectively through digital channels. We live in a digital world, it's time to bring your business into the 21st century.
Onwards and upwards. No more Same Stuff Different Day garbage. Think differently, revolutionise your business with digital channels and opportunities for your business to flourish in 2016. The same activities from the last 10 years quite frankly aren't going to cut it in 2016.
The following two tabs change content below.
Michael has been running Contrado Digital for over 10 years and has over 15 years experience working across the full range of disciplines including IT, Tech, Software Development, Digital Marketing, Analytics, SaaS, Startups, Organisational and Systems Thinking, DevOps, Project Management, Multi-Cloud, Digital and Technology Innovation and always with a business and commercial focus. He has a wealth of experience working with national and multi-national brands in a wide range of industries, across a wide range of specialisms, helping them achieve awesome results. Digital transformation, performance and collaboration are at the heart of everything Michael does.
Latest posts by Michael Cropper (see all)