Last week was the infamous annual Google I/O 2014 conference in San Francisco which talked about where the company is heading and what new cool products they are launching. Kindly, Tech Hub Manchester put on an event to live stream the sessions for us across the pond to watch. With so many announcements from the day, this really is an exciting time to be involved with digital and this presents a huge opportunity for businesses.
Starting the day, one of the interesting announcements was the sheer scale of Google's Android platform, with over 1 billion monthly active users on the platform globally. That is 1/7th of the population of the planet which is absolutely staggering.
1 billion #Android devices out in the world. That's something like 93 million selfies taken every day … give or take #io14

— A Googler (@google) June 25, 2014
Android One
If you think that is huge, Google announced a new initiative called Android One which is designed to boost these numbers even higher.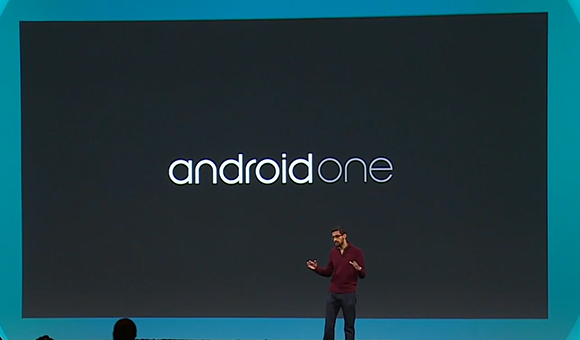 Image source: http://www.gsmarena.com/google_launches_android_one_smartphone_program-news-8866.php
For most people reading this post, this isn't going to have much of an impact. Android One is a set of guidelines for smartphone manufacturers who are creating budget smartphones. The guidelines are designed to outline the minimum hardware specifications to be able to run the Android platform efficiently.
These guidelines have been developed to increase the number of budget devices running the Android platform in developing countries around the world. With the first devices being built by several manufacturers arriving in India very soon.
Android Wear
For us, this is one of the most exciting announcements of the day. I'm sure everyone has started to see Google Glass in the news. More recently, various manufacturers have been creating Smart Watches too. Android Wear is an extension to the current Android platform that has been designed specifically for wearable devices and technology.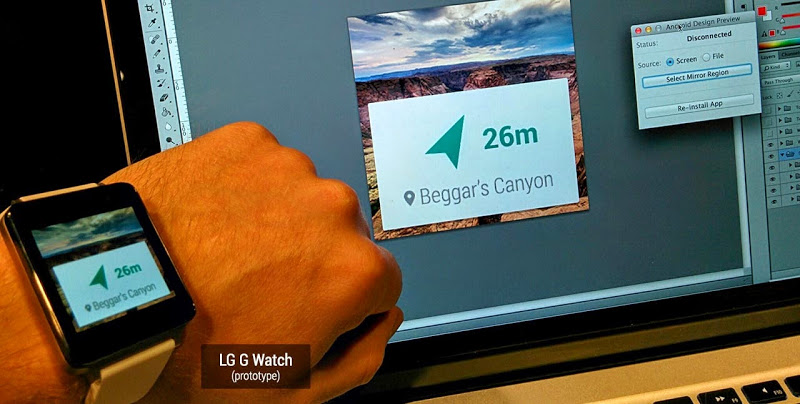 This technology has been floating around for a short while now, although it hasn't been open to developers on scale. The announcement was that this new platform is open for developers to access, meaning that if you want to look at using this new technology as a business then it is now possible to start building really cool things for your customers.
To summarise the Android Wear platform, it is essentially designed to link up your smart devices such as watches and Google Glass to your mobile phone and send data back and forth with ease. The idea being that you now no longer have to keep getting your phone out of your pocket to find out what the latest 'buzz' was informing you about, instead you can simply glance at your smart watch to get the information you need with ease.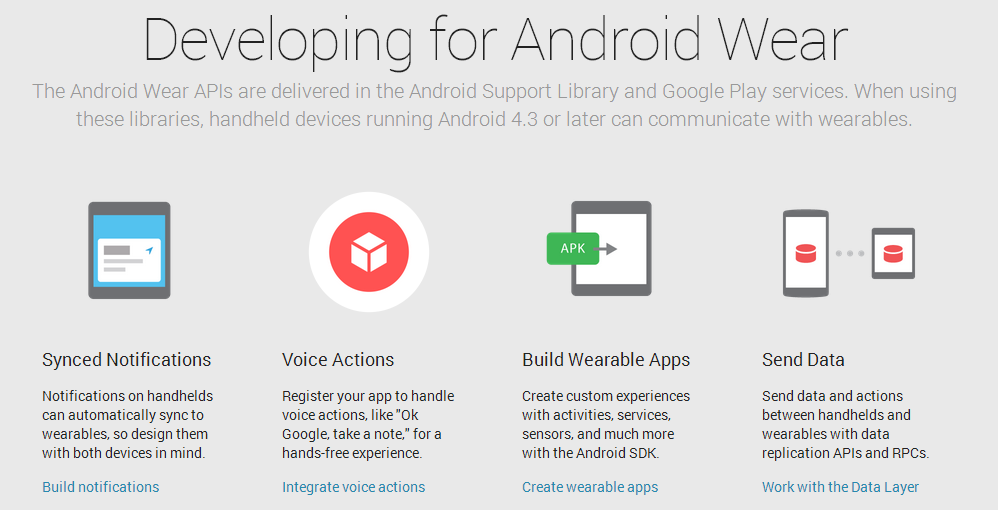 An interesting idea that Google is currently working on with this technology is to add a layer of security which will save you time. Around 15% of people use pin numbers on their mobile phones to protect themselves which is a huge amount of time wasted every day unlocking your phone, especially when the average person looks at their phone around 125 times per day.  Instead, Google talked about the idea of a 'safe zone' for technology based on other technology that is surrounding it along with geo location information.
For example, imagine if you didn't have to enter in your pin number of password every time you looked at your phone. Instead, your phone would be able to detect your smart watch and understand that it is safe to unlock the phone without needing to enter in the password. Saving a lot of time and making your interaction with the technology much simpler. Likewise, imagine if your laptop knew you were in a safe location such as the home or office, and that it was you accessing the device based on the proximity of your smart watch to the device, then you wouldn't need to enter in your password each time.
There are quite a few potential pitfalls with this idea which I have no doubt will be ironed out before an official release. It is really interesting to hear where Google is heading with this technology and looking at what this means for the future of how people interact seamlessly and securely with digital technologies.
Enhancing the Mobile Web by Scanning Apps
The mobile web has been growing at an exponential rate over the last few years and this is an area that Google continues to see as a huge opportunity for the future. The traditional approach for businesses related to the mobile web is around creating a mobile website (i.e. m.website.com), creating a responsive website, creating a mobile app or a mixture of all of these.
This has led to a compartmentalised approach which isn't a great experience for the user. Understanding this, Google announced that they are now scanning mobile applications for businesses who have mobile apps and will be displaying this within the search engine results pages when you search on Google. For example, with the Airbnb app below, Google knows that you have this app installed on your mobile device and will direct you to their mobile app when you click on their listing within the search results;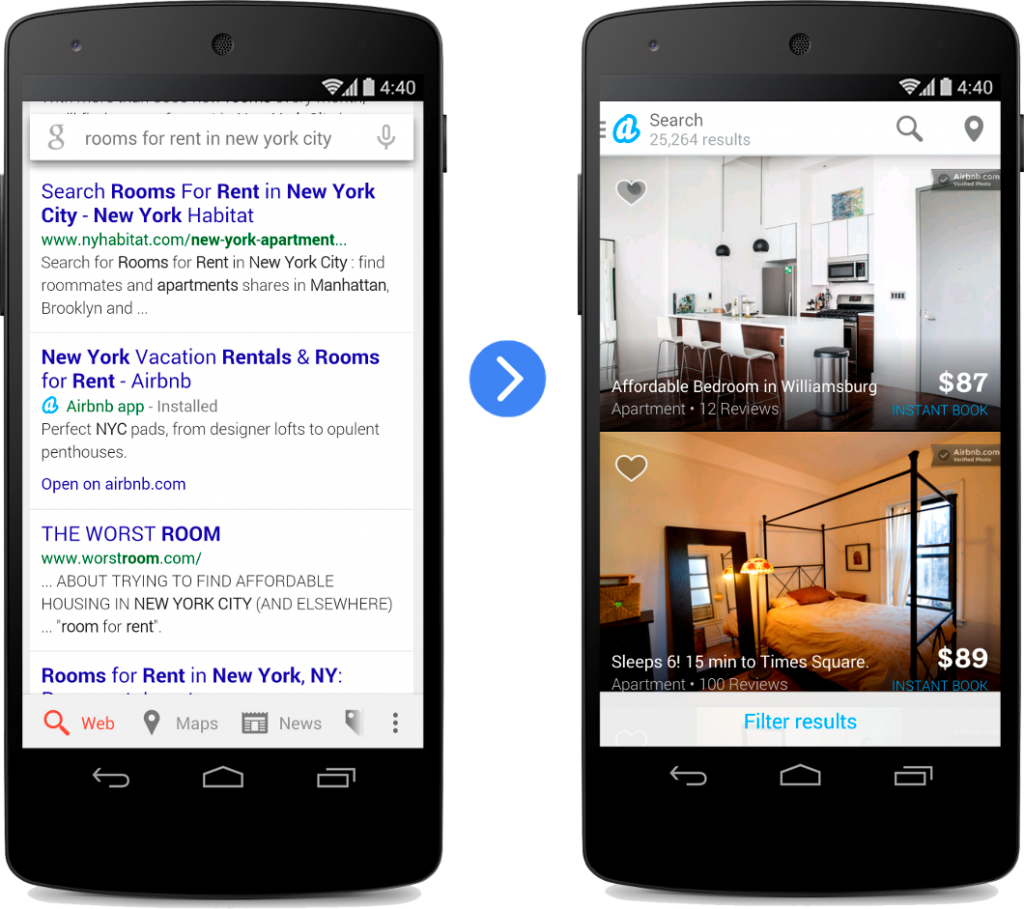 Looking beyond this, Google also announced a new feature within Android which allows users to multitask better. Allowing users to easily switch between open tabs in Google Chrome and open mobile applications on your device. It has always been easy to switch between tabs on Google Chrome on your mobile phone, but not so easy to switch between open apps. Now it is. This is another improvement to the user experience for customers interacting with your brand online.
If you do have a mobile application and want to find out more about what is needed to allow your customers to open your mobile app directly from Google's search results, then get in touch and we can guide you through this process.
Seamless Experience & Contextually Aware
The two announcements mentioned above so far are all designed to create a seamless experience for customers, regardless of what technology or device people are using. Everything is designed around the user to enhance their lives in one way or another.
The next area Google focused on was around contextually aware devices which would present information to you as a user based on where you are and what is going on around you. Very similar to trends talked about at the recent BIG2014 digital conference as smarter technology enters the market.
To summarise, the main points included around devices being contextually aware so the devices understand what is happening right now, being voice enabled so you can continue working on what you are doing without using your hands such with cooking and driving. Then finally talking about a seamless experience allowing you to pick up where you left off, again on whatever device. This technology relies completely on everything being cloud based so your data and information can be easily accessed from a smartphone, laptop or tablet with ease.
Android Auto
As I'm sure you will know about Google's driverless cars already. Well Android Auto is designed to link up with current car manufacturers and bridge the gap with traditional industries and make them smarter and digitally enabled. Before talking about what Android Auto is designed to be doing, it is important to note that this isn't something that Google is simply pushing, this is a platform that a lot of car manufacturers are getting behind as part of the Open Automotive Alliance;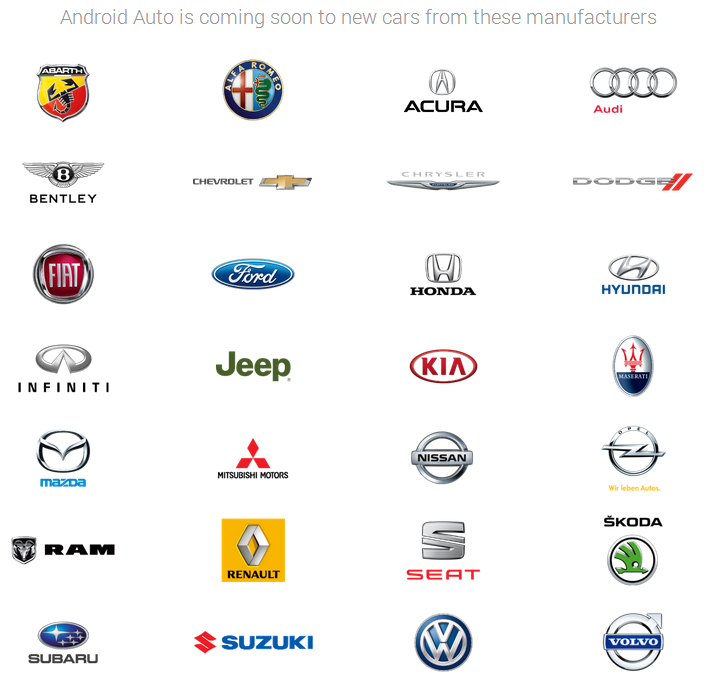 To quote from the Open Automotive Alliance website;
"There are over 1 billion cars on the road today. We rely on our cars for so many things in our lives, but right now the connection between them and the other mobile technology in our lives isn't always seamless. The Open Automotive Alliance is a group of leading automakers and technology companies that share a vision for making technology in the car safer, more seamless and more intuitive for everyone." Source
As you can see, this is a huge focus for Google and one where they are looking to integrate their Android Auto platform into cars around the world, allowing customers to communicate more effectively around the globe.
Maps Integration
An obvious use for this technology is to display Google Maps within cars so you no longer have to be distracted changing the settings on your satellite navigation systems which often aren't anywhere near as useful as Google maps.

Message Popups
Following on from this, it will be possible to pop up messages that have arrived on your mobile phone so you can easily read completely hands free.

With all of this new technology, safety is still paramount and something that everyone involved within this process will be taking very seriously. It is interesting to see where this technology is heading and I imagine we will start to see integrations like this becoming more mainstream in the near future.
For controlling this technology, the platform allows you to link up the standard steering wheel controls to your smart applications, allowing you to control them without taking your focus away from the wheel while driving along with all commands being voice activated too. Very easy to use. Google envisions the future whereby it is as easy to develop apps for cars as easy as it is to build an app for a mobile phone or tablet.
Android TV
A very similar update to the previous ones, designed to make smart TVs even smarter through the Android TV platform. Customers expect to be able to access content and information from any device they like, at a time that suits them. The idea of sitting in front of the TV at a certain time of day on a specific day of the week is over. On-demand is what customers expect today and Android TV is looking to standardise this industry on the platform.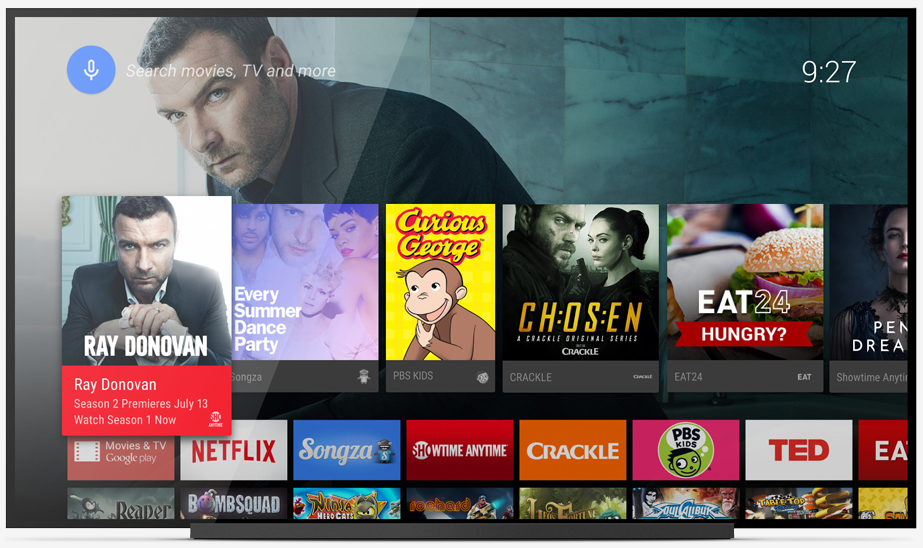 Content recommendations will be based on your history of what you have watched on the TV along with your personal preferences. In addition, allowing you to easily search on your TV with voice commands. It is already possible to control the TV with your Android mobile phone, so as this technology branches out into smart watches and smart glasses in the near future, I have no doubt that this will become even easier to connect with devices around your home.
In addition to traditional TV, the Android TV platform also links up with the Google Play store, meaning that you can access games and content on the big screen in your home.
Chromecast
If you aren't already aware, Google's Chromecast is designed to allow you to easily stream content to your TV with ease. Chromecast is easy to set up with a simple mobile app, then you can send your favourite online shows, movies, music and more directly to your TV using your smartphone, tablet or laptop. The small device plugs into the HDMI port on your TV.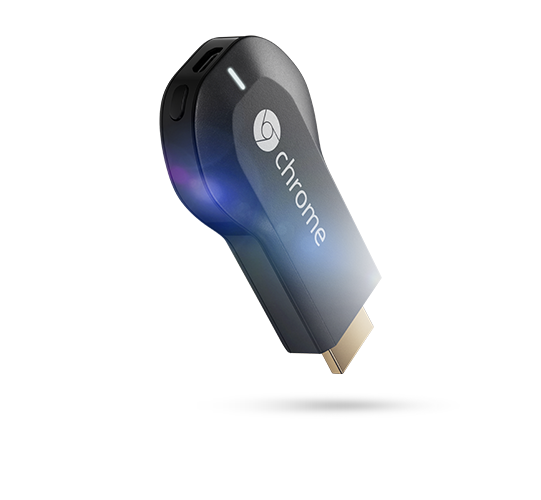 Previously you needed to be on the same WiFi network to be able to stream content, although Google announced that this is no longer the case. They are in the process of rolling out an update that allows you to stream to any device through the cloud which would authenticate the request. As more smart TVs enter the market, keep an eye out for Google Chromecast enabled devices to allow you to add this extra functionality to your TV.
An interesting statistic that Google mentioned was that they have sold more Chromecast devices than any other casting devices combined from other manufacturers. The power of the Google brand. Another interesting announcement related to Chromecast was for 'Backdrops'. Backdrops are designed to place 'something' on your TV when you aren't actively using the TV, for example photographs of family etc. An interesting idea which is essentially a huge digital picture frame using your TV instead. While not a very green approach, this is likely being implemented to encourage people to continually have their TV on which will no doubt be a sneaky way to get advertising directly into people's homes in the future.
The new Chromecast features allow you to stream content directly from your mobile phone, tablet or laptop to your TV with ease. Quick to set up and very simply to use afterwards.
Snippets
A few other snippets mentioned throughout the various presentations included how there are now over 300 million Google Chrome users on mobile this year, which is up from 30 million last year which is an enormous increase. In addition, Google are working on a platform that allows a single device (mobile phone, tablet, laptop) to be used for both personal and corporate use. As each of these will often have varying levels of security and policies in place, it is important to be able to clearly segment these options to give the different groups of users the correct access. This will be an interesting announcement in the future which will ultimately mean that people can walk around with a single set of devices instead of two mobile phones and two tablets which isn't practical.
Google also talked about Google Apps for Business where there are now over 190 million monthly active users on Google Drive. With specific improvements for enterprise level customers allowing clear reporting and analytics in the background to understand how your staff are using the platform. Interestingly, 58% of Fortune 500 companies are apparently using Google Apps and 72% of the top 100 universities are also using Google Drive.
Summary
The Google I/O annual conference is always an exciting event to see where the company is heading with future products and services, and I'm sure you'll agree that this year is no different. The key messages to take away from the announcements are around contextually aware devices, wearable technology and creating a seamless experience for your customers as they interact with your business.
For a lot of businesses, this technology will be a little while off until this is ready to be taken advantage of. That said, start planning now for how you are going to be capturing this some of this market in the future. In the near future we are going to be living in an über connected world which puts the control in the hands of the customer. Be ready.
The following two tabs change content below.
Michael has been running Contrado Digital for over 10 years and has over 15 years experience working across the full range of disciplines including IT, Tech, Software Development, Digital Marketing, Analytics, SaaS, Startups, Organisational and Systems Thinking, DevOps, Project Management, Multi-Cloud, Digital and Technology Innovation and always with a business and commercial focus. He has a wealth of experience working with national and multi-national brands in a wide range of industries, across a wide range of specialisms, helping them achieve awesome results. Digital transformation, performance and collaboration are at the heart of everything Michael does.
Latest posts by Michael Cropper (see all)