As Google turned 15 last month, you may have heard about a change with their algorithm that was announced a couple of weeks ago called Hummingbird. What you may not be too familiar with is what this actually is and what this means for your business. Hopefully after reading this blog post you will be up to speed with this change and how it impacts things. After all, this change was the first time since 2001 where the whole algorithm was rewritten so dramatically.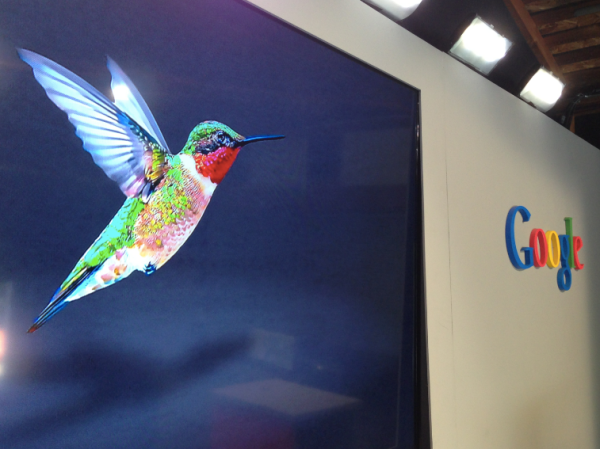 Image courtesy of Search Engine Land
What is Hummingbird?
Hummingbird is the name that has been given to Google's latest algorithm change which is all about being "precise and fast". More importantly, Hummingbird is designed to understand the meaning behind the words people are searching for, especially with more complex queries.  One example given included how they could understand where you live if you searched for "Pizza shops near my home", if you have shared that location data with Google.
With Google looking at the meaning behind the words and whole phrases being searched for, this means that pages that contain information that specifically answers the users query are more likely to rank higher than pages that simply contain the words on the page. This is only a good thing and it once again highlights the need to focus on awesome content that answers user's queries in the best way possible.
Google stated that a search for "Pizza Hut calories per slice" used to bring up a website that simply contained that information on. Now what they are aiming to achieve with the Hummingbird algorithm is to understand that the two words "Pizza Hut" actually relate to the brand, so that information would be used to find information on the Pizza Hut website about "calories per slice". When I have just performed this search, the other websites still are outranking Pizza Hut which goes to show that the algorithm still has a long way to go to fully understand entities within a semantic search environment.
Another example of how Hummingbird is understanding entities better is when you search for "Blackpool Tower VS Eiffel Tower" and you are presented with a nice comparison of the two;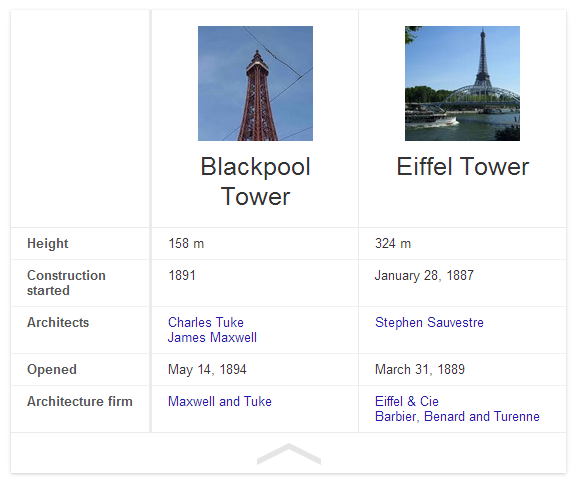 Previously this search query would likely have just presented a page that contains a bit of information about the two different topics which may or may not have had the answer a user was looking for.
Do you need to change anything?
With the new Hummingbird algorithm being out in the wild, the one question on everyone's mind is whether they need to change anything they are doing. In summary, no. The best practice still remains true which is to build amazing, original, high quality, sharable and linkable content for your customers.
Hummingbird is all about how Google understands information that is already out there. So all of the important signals that we know Google is using are still as important with Hummingbird in place.
With Hummingbird being all about how Google understands content better, this once again should take the focus away from specific keywords and to a place that is all about users and providing them with the answers they need. Put yourself in your customer's shoes and understand what types of things they are seeking answers for. Identify those needs and problems and help provide solutions and answers to them.
Should you worry about a Hummingbird penalty?
No. Hummingbird is simply changing the way Google understands your content. Based on this understanding they are able to provide better search results to users searching on Google for complex queries. With previous animal named algorithm updates, Panda and Penguin, it is rightfully so that people would ask this question. With this change being launched over a month ago unofficially, if you have noticed a change then it isn't likely to do with the algorithm but it is more likely due to one of the other 200 signals that Google uses within their ranking algorithm.
Looking through various Google Analytics account and rank tracking data, we haven't seen any changes related to the Hummingbird algorithm change.
What is the real reason behind the change?
More and more people are searching on Google from mobile devices and this search behaviour isn't just standard text based. With the advent of voice search on Google (both from your mobile device and from normal desktop search) this is driving more complex queries which needed a change in thinking for how Google answers those queries.
Previously Google was all about the words on a page without any real understanding behind them. They understood that if a page mentioned "Britney" that it was also likely to mention "Spears" but they didn't understand that "Britney Spears" was a person. Back in May, Google announced Knowledge Graph which is all about understanding entities and real world things in greater detail. Hummingbird is the logical next step to this.
Looking at a conversational search example, the aim is to allow users to simply talk to their device in a conversational way and to get back useful information throughout this process without being explicit each time.
Being able to understand potentially lengthy conversations means that Google needs to really understand the meaning of the words behind the query to be able to serve the best possible information to the user. It is going to be interesting to see how this develops over time and how user's behaviour starts to change with new technology such as this.
Additional video
Since posting this blog post I have re-stumbled upon an old video from a few months ago where Matt Cutts (Head of Web Spam at Google) talks about the change in behaviour they are seeing with people searching on mobile phones. Specifically to a more conversational style search;
Future opportunities
With Hummingbird being all about how Google understands content, the biggest tip that we can give at the minute is to start taking Schema.org markup seriously. If you don't already know, Schema.org markup is simply a way to markup your content into some kind of structured way that search engines can understand more easily.
Google already supports several Schema.org tags and this list is only going to grow over time. Some Schema.org tags already give you direct benefit within the search results, such as review rich snippets standing out, although there are others that haven't been announced yet. Implementing these now won't gain you any extra benefit in the short term, although it will certainly put you in the right position for when Google does look at these additional tags.
As can be seen from a lot of the major changes recently (knowledge graph, conversational search, Hummingbird) it is clear that Google is always looking to understand the world we live in more.
The following two tabs change content below.
Michael has been running Contrado Digital for over 10 years and has over 15 years experience working across the full range of disciplines including IT, Tech, Software Development, Digital Marketing, Analytics, SaaS, Startups, Organisational and Systems Thinking, DevOps, Project Management, Multi-Cloud, Digital and Technology Innovation and always with a business and commercial focus. He has a wealth of experience working with national and multi-national brands in a wide range of industries, across a wide range of specialisms, helping them achieve awesome results. Digital transformation, performance and collaboration are at the heart of everything Michael does.
Latest posts by Michael Cropper (see all)