We are delighted to announce the launch of our integrated online marketing agency Contrado Digital, specialists in Search Engine Optimisation.
We launched Contrado Digital because we believe the key to successful Search Engine Optimisation is about integrating Search throughout your organisation. We have found that by breaking down the silos and joining teams together this helps achieve awesome results.
Who's Behind Contrado Digital?
Contrado Digital has been launched by Michael Cropper who has vast experience working across a range of industries including Luxury Travel, Budget Travel, Charity, Transport, Building, Trade Insulation and Ink & Toner. Michael has helped consistently deliver results on both the client side and the agency side throughout his career and decided it was time to branch out and help more businesses succeed online.
We work with a team of search specialists, infographic designers, content writers and web developers to help deliver the best results possible for your business.
Watch this space as the Contrado Digital team grows – we have big plans for the next 12 months and are always looking for great people to work with us!
Why Integrated Online Marketing?
The online environment is more competitive now than it has ever been, with more businesses aiming to capture the billions of people searching online every day for different products and services. We believe that to succeed long term online is ultimately about improving your whole business so search engines see that you are an authority in your industry.
Integrating Search throughout your organisation leads to a deeper understanding of your customers. This leads to better products and services being tailored to what your customers want and need.
Integrating Search throughout your organisation helps teams working together to achieve a common goal – increased traffic and sales from Organic Search.
It's all well and good saying these things, but what about a few examples to illustrate how integrated online marketing can help your business grow.
Example 1 – Call Centre Support / Live Chat Functionality
Do you run a call centre or live chat to support customer queries? Have you ever thought about how Search can be integrated into this area?
What areas or topics are customers continually asking you about? What are their common queries or questions about your products or services? Continually reviewing this can be a fantastic source of information which can help feed into your content plan on your website.
If customers keep asking common questions about a product, then create some content on the website that answers their question. This will lead to a happier customer who now has the information they needed sooner. It will also lead to higher quality content being displayed on your website, which we all know is what search engines are looking for. As an added bonus, this is also likely to reduce call centre costs.
Example 2 – In-Store Staff
Do you have physical stores on the high street or branches customers can visit? Have you ever thought about how Search can be integrated into this area?
Your staff are interacting with customers on a daily basis and will gather a phenomenal amount of information within this time about what customers are looking for when purchasing your product and service. Looking at ways to capture this information then feeding it into your website content plan can be extremely valuable.
What are your customers using the products and services for? What information do they need before making a purchasing decision? What other considerations are they making? All of this information can be understood and utilised to create content on your website. Again, this additional content that helps your customers is also going to help drive additional traffic to your website from Organic Search.
How about your in-store staff encouraging customers to engage online. Encourage them to 'check-in' to your store. Encourage customers to review your business after they have made a purchase. Encourage customers to share information socially once they have just made a purchase. The opportunities to integrate offline with online are endless and can seriously help your Search Engine Optimisation strategy.
Example 3 – Marketing Efforts
Do you regularly run TV campaigns, special promotions or competitions to engage your customers? Have you ever thought about how Search can be integrated into this area?
If you are running a TV campaign, then why not integrate this ad on a page on your website then promote this page socially. This will not only increase the reach of the campaign but also help drive additional social shares and backlinks to your website. To generate additional traffic, you could also promote this on YouTube to capture the huge audience that visits the website daily.
If you are running a competition then instead of running the competition on a social platform, why not look at setting the competition up on your website. By promoting the competition page on your website this will help increase the number of backlinks, increase social shares and drive additional referral traffic to your website.
If you are creating a promotional page for a marketing campaign, then why not see if there are any specific keywords that could be targeted on the page. This small tweak can lead to additional organic traffic landing on the promotional page which may even perform better than other channels.
Integrated Online Marketing
Hopefully that gives a few examples of how Search can be integrated throughout your organisation.  to help drive awesome results for your business. Integration takes time, effort, collaboration and creativity to make things work better.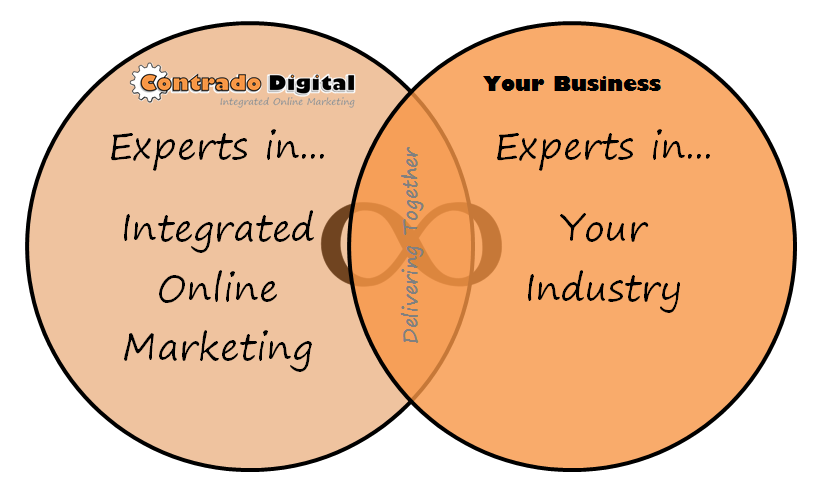 What Does Contrado Mean?
Contrado is Latin for "to deliver together" and is the foundation of how we work and our beliefs. We work with your organisation to deliver results together. You are experts in what you do and we like to think we know a thing or two about what we do. Together we can deliver results to help grow your business online.
The phrase "to deliver together" also links with integrated online marketing. Successfully integrating marketing and business activities ultimately means working together towards a common goal. This is something we strongly believe in and have seen time and time again how this process helps achieve awesome results.
Stay in Touch
Keep in touch with us socially on Twitter, Facebook, Google+, LinkedIn and subscribe to our Newsletter to stay up to date with all the latest news and trends in Search Engine Optimisation and the Digital Industry.
Looking to find out more sooner? Then get in touch to see how we can help grow your business online.
The following two tabs change content below.
Michael has been running Contrado Digital for over 10 years and has over 15 years experience working across the full range of disciplines including IT, Tech, Software Development, Digital Marketing, Analytics, SaaS, Startups, Organisational and Systems Thinking, DevOps, Project Management, Multi-Cloud, Digital and Technology Innovation and always with a business and commercial focus. He has a wealth of experience working with national and multi-national brands in a wide range of industries, across a wide range of specialisms, helping them achieve awesome results. Digital transformation, performance and collaboration are at the heart of everything Michael does.
Latest posts by Michael Cropper (see all)