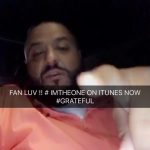 Without visible follower counts, likes, or any other kind of public metrics, Snapchat provides an even playing field for all users. Celebrities aren't given special treatment over us "regular folk." As the New York Times explains, celebrity "posts are not presented in a newsfeed, and an algorithm does not prioritize their content and automatically feed it to users."
This hasn't stopped celebrities—like Kim Kardashian, The Weeknd, and Gwen Stefani—from flocking to the platform and using it to its full potential.
And they're doing it better than most brands. Continue reading to discover how celebrities have unlocked Snapchat in ways your …Read More
Source:: What Celebrities Get About Snapchat That Brands Don't
The following two tabs change content below.
Michael has been running Contrado Digital for over 10 years and has over 15 years experience working across the full range of disciplines including IT, Tech, Software Development, Digital Marketing, Analytics, SaaS, Startups, Organisational and Systems Thinking, DevOps, Project Management, Multi-Cloud, Digital and Technology Innovation and always with a business and commercial focus. He has a wealth of experience working with national and multi-national brands in a wide range of industries, across a wide range of specialisms, helping them achieve awesome results. Digital transformation, performance and collaboration are at the heart of everything Michael does.
Latest posts by Michael Cropper (see all)