For those of you using Microsoft Exchange for your email platform, be aware of the latest phishing email going around telling you that you;
"Your email have exceeded maximum disk quota allocated, we require re-activation to continue using mail service…. Our system will automatically purge out mail that have exceeded quota, to avoid this please kindly follow our instruction."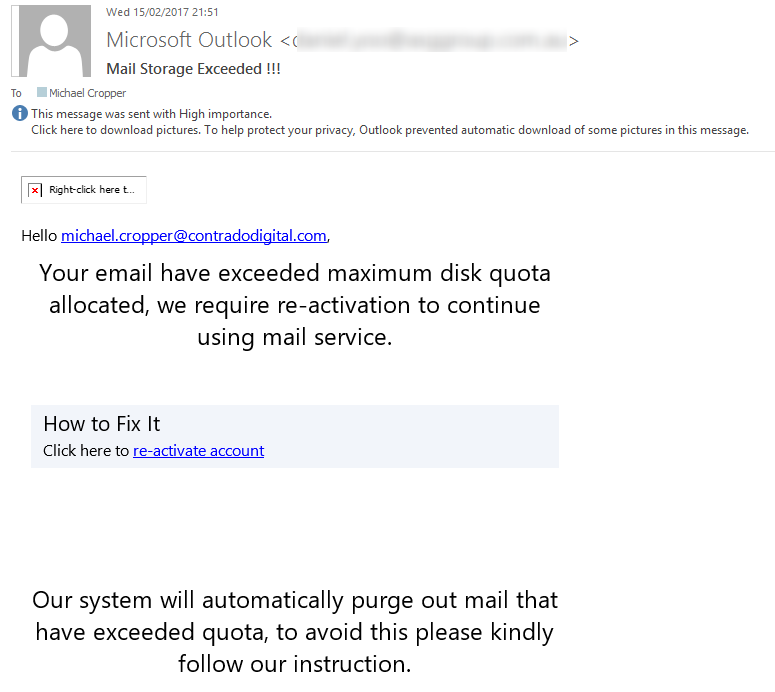 As always, if any email looks suspicious, never click on any links that you see. In this particular case, the email 'from' address which has been blurred out above is clearly not from Microsoft, it was from an IT company based in Australia. It is likely they have been hacked their self then their web server was used as a way to attack more businesses. While the 'from' email address can be easily faked, when the from email address is clearly not from where you would expect, this is a clear sign that this email is fake. In addition to this, when you hover over the link in the email, the link URL is to a strange website with a lot of random characters which is another clear sign that this email is a phishing scam.
Always keep an eye out for phishing scams like this
The following two tabs change content below.
Michael has been running Contrado Digital for over 10 years and has over 15 years experience working across the full range of disciplines including IT, Tech, Software Development, Digital Marketing, Analytics, SaaS, Startups, Organisational and Systems Thinking, DevOps, Project Management, Multi-Cloud, Digital and Technology Innovation and always with a business and commercial focus. He has a wealth of experience working with national and multi-national brands in a wide range of industries, across a wide range of specialisms, helping them achieve awesome results. Digital transformation, performance and collaboration are at the heart of everything Michael does.
Latest posts by Michael Cropper (see all)