Well I thought I would make a few predictions about how I can see the SEO industry changing in 2012. These predictions are in no particular order, except the order in which they popped into my head.
1. Social Signals Gain Importance
It is clear how important social signals already are for SEO and with the launch of Google Plus in 2011, this is only going to get bigger. Since the launch of Google Plus, Google has been pushing their service down everyone's throats at every possible opportunity to increase the membership.
Eric Schmidt announced recently that social signals are already a ranking signal.
"The social signal, the people you 'hang with' is actually a ranking signal"
That said, Google have been using social signals as a ranking factor since late 2010 as it seen in the video below from Matt Cutts although they were only using is "relatively lightly for now" (Dec 2010) back then.
So I predict this is going to become an even more important SEO ranking signal in 2012. This linked in with the Authorship markup which I will mention further down the article.
2. High Quality Content is Imperative for SEO Success
Throughout 2011 Google has blessed the SEO industry with their Panda updates which have wiped out some businesses because they apparently aren't 'good enough' in the eyes of Google.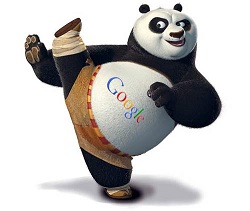 High quality content is going to be the key to ranking well in 2012. This is not just because better quality content contains more useful and relevant information for the user, which in turn makes the page rank better than other sites with poorer quality content, but the fact that high quality content is what people talk about. When was the last time you shared/tweeted/liked a piece of poor quality content? My guess is never. What you do share with your friends is high quality content.
Win win all round, high quality content help your pages rank better and because it is high quality it then generates natural links back to your website. But it all starts with content which is then promoted well.
I predict there will be many more Panda updates in 2012 which will follow on from the ones throughout 2011.
3. Rich Media Becomes More Important
Following on from the point above about high quality content, I see Rich Media being an integral part of this. If you have a look at some of the winners / losers from the recent Panda updates then it is clear to see the reason why websites like How Stuff Works have benefited so much from the updates.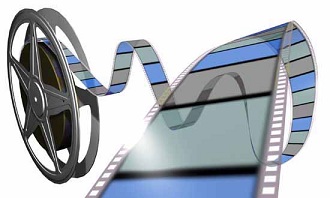 These types of websites contain a lot of great information. They contain lots of useful text, good quality images and diagrams explaining how thing work, interviews with relevant industry experts and videos of the items being discussed. There is not
Be creative and provide some great content. I recently created an interactive Google Map which shows SEO Conferences in 2012 around the world, and Thompson recently created a cool infographic showing aworld map of music.
4. Google Providing Answers Directly Within Search Results

Google has been providing more and more answers directly within the search results over the past 12 months, a lot of which has been helped with people marking up their content with Rich Snippets. That said, there has also been a lot of answers that have been showing up within the search results for queries where there is no obvious markup behind this, one of which was when I was searching for 'who owns Expedia' and the same is happening for other queries such as 'president of America' (just in case you didn't know who that was!).
5.  Google Gets Slap On Wrist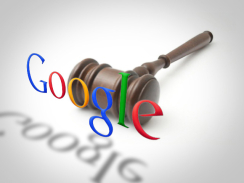 Throughout 2011 there has been a lot of talk about how Google is abusing their monopoly and this even went as far as a US Senate Committee investigating, The Power of Google: Serving Customers of Threatening Competition? Here is what Senator Lee said in his opening statement, quite an interesting read.
I predict that in 2012 there is going to be further investigations and legal requirements for Google to change their behavior in some way that provides more competition or openness and could possibly lead to a similar situations where Microsoft found their self back in the late 90's.
6. Mobile SEO Gains Traction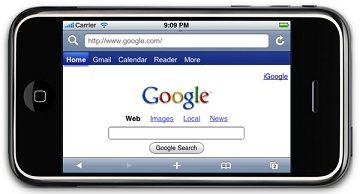 In the past mobile SEO hasn't particularly been that important since Google wasn't doing anything differently for mobile sites than they were for normal desktop websites. Recently though, Google announced that they would be displaying mobile site URLs directly in the search resultsfor users who are searching from a mobile device.
Whilst mobile websites for business are extremely important since theyconvert far better than a full desktop site when viewed from a mobile device, I predict for 2012 there will be a lot more importance towards mobile SEO. This includes the crawlability of the mobile site, the normal optimisation techniques used on the desktop site, the ability to flick between the mobile site and the full desktop site and vice versa.
It may even emerge that Google introduces a new meta tag designed specifically to be used on the mobile websites which works in a similar way to the canonical tag. So you would place the tag on the mobile page which says that 'this page is a mobile page of this desktop site page'.
<meta name="mobile-site" content="http://www.website.com/this-page.html"/>
7. Less Importance on Number of Back Links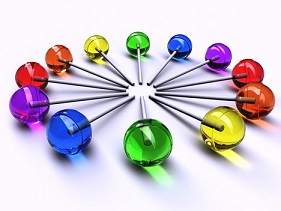 Now this is a little bit of an eye grabbing title and I don't mean to say that Google is not going to be looking at back links as a ranking signal, more that Google is going to be focusing on the quality of back links coming to your website. This has always been the case for Google, but again, this has been relatively easy to game by purchasing high quality back links in the past or even 'sponsoring events' or 'affiliate schemes / links' which, whatever way you look at this, is a paid link.
The best opportunities for anyone in 2012 is to focus on the high quality back links that competitors would find difficult to copy. These could be with some strategic partnerships with other influential businesses / websites. Once you have these partnerships in place it becomes a working relationship that you have and not merely a plain old boring back link to your website.
These things take time to generate, but are ultimately the right thing to do since they cannot be copied easily if at all. An example of one of these back links would be from certain companies that you work with, whether that is a supplier of goods or services.
I predict that high quality links along with social links are going to be key items in 2012.
8. Only Google Reviews Are Used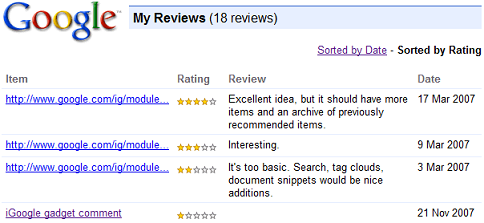 Google currently uses reviews on their places pages and products from a variety of sources including Review Centre and Ciao and even has review feeds from certain people where this is used to populate review information onto some of their products. Google also recommends that people mark up their review content that that they can read it easier, and more importantly store this in a structured DB easier than trying to parse lots of bad markup!
Last year (or possibly the year before) Google introduced their own reviews platform which was used to populate information on their Google Places pages. Over the past 12 months though, Google has slowly been phasing out some of its key partners it used to work with and instead just showing Google's own reviews which have been left by people with a Google account.
With the introduction of Google Plus last year, then this is only going to make it easier for Google to capture more reviews of anything and everything and will eventually mean that they have more reviews than the partners who used to provide this data.
The current problem Google has with reviews that are left is the same problem that faces all review websites and that is that they have no idea if the person has actually bought or used the product they are reviewing. They could just be a competitor who wants to slate another product so that they gain a bit of the market share. I wouldn't put it past some companies! There was even a TV program on Channel 4 last year about how some unfair negative reviews which had been left on Trip Advisor actually ruined certain hotels.
Having a think through how Google would get around this, and it would be relatively simple for them to assess who is a genuine reviewer based on their new Google Plus platform. For example, if someone has a lot of genuine friends / discussions / fans / followers / people in circles / pictures uploaded / interactions etc, then it would be fair to assume they are a real person and not a bot. So it would be possible to create something like a "People Rank" which would be some kind of score given to each individual person to decide if what they are saying is either worth while or a load of rubbish, in a very similar way they rank web pages.
So I predict for 2012 that Google will push more of its partners away and only show their own reviews on Google products, where as previously they used to show reviews from different sources around the web.
9. Bing Gains Market Share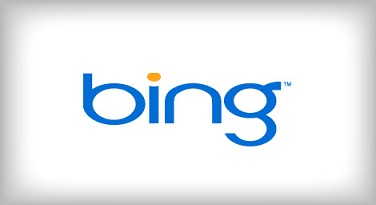 Over the past few years Bing has slowly been gaining market share and according to comScore, it actually  increased its market share from 11.2% back in September 2010 to 15.00% in November 2011 which is considerable growth! This was likely helped with the partnership with Facebook and providing their web search results.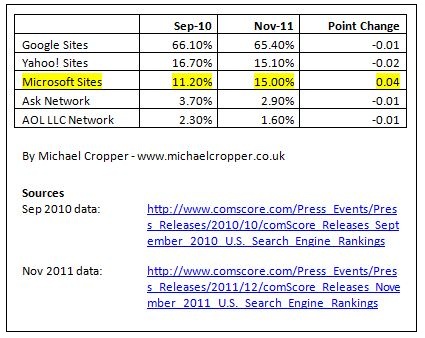 In addition, Microsoft also have the Xbox console and has recently begun advertising a cool function with their Kinect Voice Search where you just ask the Xbox to 'search Bing'. Owning the hardware that people use to connect to the internet is a massive advantage to increasing market share.
I predict that in 2012 Bing could actually reach a 20% market share if not more if they continue with the advertising push.
10. Google Gets More Personal
Google is certainly moving more and more towards personalised search results based on websites you have visited before, based on people you follow on twitter and based on your friends within your social circles on Google Plus.
I recently did a joke post about how Google introduced the 'no panda penalty' meta tag and when searching for this on Google is is clear there is some personalisation happening since I tweeted this on Twitter.

I predict we will be seeing a lot more personalisation in the search results through 2012.
11. The Death of SEO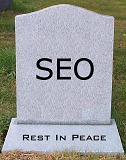 I haven't seen anyone rant on about the death of SEO for a while, so I am going to put this into my SEO predictions for 2012. :-p
Seems like a strange thing to say? Well let me clarify a little, since SEO is blatantly not going to die a horrible death. What I mean when I say this is that the old traditional approach to SEO is going to be dead. So the old skool idea of buying a keyword rich domain, creating a bunch pages targeted at your niche phrases, then adding a few paragraphs of keyword rich generic copy to those pages and maybe a couple of images, building a few back links from directories and there you have it – ranking #1.
If only it was that easy! That old skool approach to SEO is well on its way out,  especially with the Panda updates last year. SEO in 2012 is about being remarkable. Be a Purple Cow and create a Big Moo!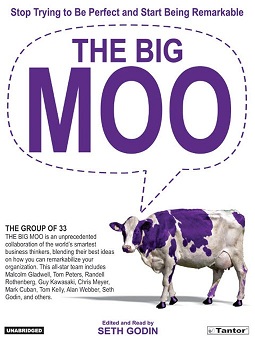 12. Authorship Becomes Essential For Content

Google announced the introduction of Authorship Markup in 2011 and it hasn't been the easiest of things to implement and as traditionally shown by Google, they will not always use it even if you do end up marking up your content. But I can certainly see Google promoting authorship a lot more prominently in 2012.
It makes sense really since it is another way to analyse the quality of the content that has been wrote. If an influential person writes a guest blog post on another website then this can all be linked up nicely.
I can predict that having authorship markup in 2012 will be essential for any content driven websites and it could easily be linked in with the 'People Rank' I mentioned earlier.
13. Twitter Launches Analytics Platform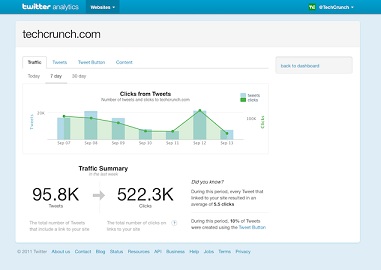 Twitter announced back in September that they were rolling out Twitter Web Analytics which was being tested with a small pilot group of partners. I predict (and hope!) that Twitter will finally launch this long awaited product in 2012. Hopefully this will be free, but I imagine there will be some kind of pricing behind it for large companies since this would be a way for Twitter to start to bring in a few more pennies.
Summary
I predict that there are going to be a lot of changes within the SEO industry in 2012 and it is going to take a lot of focus and determination for companies to succeed online. It is going to be imperative to offer the best source of information, including rich media, for the user and market this well over social channels. Those who do these things well will see a solid future for their rankings.
If you have got your own SEO predictions for 2012 then please add these into the comments.

The following two tabs change content below.
Michael founded Contrado Digital in 2013. He has experience working with national and multi-national brands in a wide range of industries, helping them achieve awesome results. Michael regularly speaks at local universities and industry events while keeping up with the latest trends in the digital industry.
Latest posts by Michael Cropper (see all)