About Us
Your Strategic Digital Agency
Contrado Digital Ltd was born in 2013 with one goal in mind, to help ambitious organisations like yours grow by implementing innovative digital technologies throughout your organiastion. Over the past several years we've been doing just that. 
We understand that every business is unique and every organisation has their own goals, KPIs and challenges along the way. This is why we work closely with your in-house marketing teams to create a digital strategy to help your organisation grow. We believe in working closely together in partnership so much that we actually named the company after this belief, 'Contrado' is Latin for 'To Deliver Together'. 
We believe in doing the right things, not just doing things well. When you work with us you'll quickly see how we put your business at the heart of everything we do with your digital strategy tailored to your individual company needs. Ambitious companies like yourself have SMART goals and targets in place to grow. We work closely with you to understand your business, your Key Performance Indicators (KPIs) and your current skill base from your staff. With this information we craft digital strategies that are designed to perform and not only hit your targets, but exceed them. 
In an ever changing digital world, it is essential to be leading the way and let competitors follow in your footsteps. That is why we will push you as an organisation to improve and lead the way digitally in your industry. To truly exceed targets within your industry and achieve your business goals we believe in working in partnership with you to implement the cutting edge technologies and drive results that exceed your expectations. 
To provide you with the highest quality service possible we only work with leading technologies. Below are some of the industry leading technologies we work with.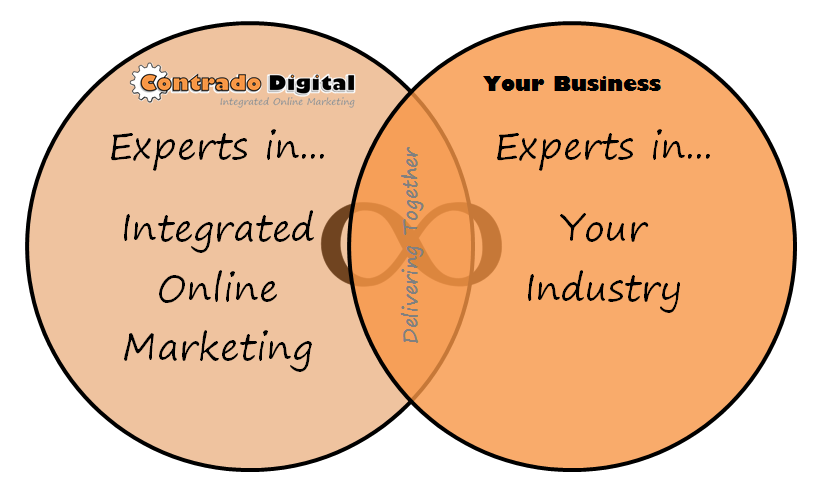 We're a small team of digital experts at Contrado Digital working with international brands and organisations. Our staff have decades of experience creating and implementing successful digital strategies for ambitious organisations. We work with a wide range of industry leading technologies to help your organisation grow. To be as flexible as possible while delivering the highest quality service, we work differently than many traditional digital agencies. The team at Contrado Digital is led by Managing Director Michael Cropper who manages a team of expert freelance contractors on your digital projects. This allows an expert team of people to be carefully selected for work on your business. 
To ensure your organisation is working with leading people in the digital industry, we have built a successful bank of UK based freelance contractors over many years who are each experts in their own specialisms. Instead of trying to deliver everything to everyone with little experience anywhere, we piece together a team of experts around your project in the background to ensure we have the right people working on the right job. We don't 'outsource' work to sub-contractors or pass work to cheaper countries in the East, every single one of our UK based freelance contractors have been assessed for quality by ourselves prior to them being involved in any live projects. This allows us to focus on what matters most, creating a successful digital strategy for your organisation and delivering results that exceed expectations.