Michael is a rare teckie, someone who is not only deeply technical and keeps his hands dirty. He is able to talk to business owners and senior leadership in a way that they understand. The missing link between IT people and non-technical business people.
He lives and breathes technology. Michael is passionate about utilising technology to bring innovative solutions to market and transform legacy businesses into forward thinking/technology first organisations.
Experience
Michael is a well rounded multi-specialist across a core range of both technical and non-technical disciplines which enables him to navigate the vastly complex world of IT, Software, Digital, Technology and Business to determine the optimal route forward for your organisation.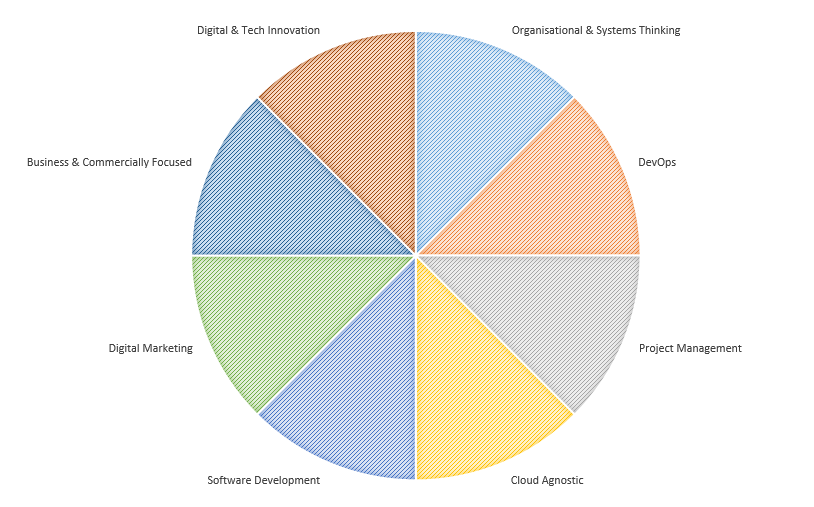 Organisational and
Systems Thinking
Enabling your organisation to optimise business processes and leverage technology to increase profitability. 
Digital Transformation, Enterprise Architecture, Solutions Architecture, Technical Architecture, Data Architecture, TOGAF.
Enabling your organisation to significantly increase the throughput and quality of application configurations and software development changes. 
Focusing on the core principles of Tools, People, Processes.
Enabling your organisation to deliver value to your internal and external customers faster while providing full visibility of work items and accurate delivery deadlines so you can plan better. 
Utilising modern Agile / Scrum / Kanban delivery methodologies and tools to facilitate collaborative working and multi-disciplined delivery squads. 
Enabling your organisation to either move into the modern world, or optimise your modern cloud workloads to both save time and money along with increasing productivity. 
Utilising public cloud platforms including Amazon Web Services (AWS), Azure, Google Cloud Platform (GCP).
Enabling your organisation to either deliver software faster in-house through the use of CI/CD processes and technologies – or – allowing us to do the hard work for you. 
Through utilising modern software development concepts such as Micro Services, Back End, Front End, Data, Cyber Security, APIs and Integration.
Enabling your organisation to drive more traffic, sales and enquiries through your digital platforms to grow your bottom line. 
By utilising digital marketing channels such as SEO, PPC, Ecommerce, Email Marketing, Social Marketing and more. 
Business and
Commercially Focused
Enabling your organisation to focus on value added activities to work towards your goals faster. 
By focusing on activities that provide real value to your organisation that are either going to save money or grow your bottom line. 
Digital & Tech
Innovation
Enabling your organisation to become the leader in new markets through innovation and technology. 
By focusing on 10x innovation and industry changing opportunities you can create new markets to enter and grow your business. 
Key Results
Results gained through both Contrado Digital and professional career of Michael.
Organisational and
Systems Thinking
Set up an Enterprise Architecture function within a £6.5 billion organisation to ensure business and IT architecture became visible resulting in better decision making and a solid understanding of how the organisation works.
—
Designed, architected and built custom mini-ERP software solution connecting core IT systems together for a one-view of the business for people at all levels. 
Embedded DevOps philosophies within an IT department to look at how the holy trinity of Tools, People, and Processes work together to make DevOps work effectively. Introduced relevant tools throughout the DevOps lifecycle.
Trained people and teams on how to use the DevOps tools. Setup processes within the IT department to ensure relevant governance was maintained throughout the software development life cycle.
Introduced and coached on Agile principles within an IT team of 150+ transforming the ways of working.
From a starting position where the IT department wasn't even aware of the active projects that were on-going to a finishing position whereby near to 100% of projects were delivered on time and to budget.
Utilised Burndown Charts and agile metrics to accurately estimate delivery dates of work items. 
Utilised SaaS services on cloud platforms such as Amazon Web Services (AWS), Azure, Google Cloud Platform (GCP) to modernise IT workloads and provide full visibility of systems. 
Significant amount of time and money saved through the use of out of the box solutions rather than re-inventing the wheel. 
Provided system dashboarding solutions from cloud data sets to understand IT system performance levels to staff could proactively respond to limits before they became an issue. 
Digitally transformed a leading UK logistics organisation connecting multiple business critical systems together in an interactive control system used throughout the business to get a single source of the truth across the business.
Connecting all manufacturing processing sites with transport management systems (TMS), power stations and automated Weigh Bridges across over 15 sites throughout the UK. Processing 10 million transactions annually.
Endless of result, see case studies page which primarily contains these results. 
Results across SEO, PPC, Social and Email marketing focused on driving traffic and sales through web platforms. 
All work tracked accurately through digital analytics tools such as Google Analytics. 
Business and
Commercially Focused
Over 100 SME solutions delivered for organisations improving their profitability, productivity and improving their ways of working through innovative technology.
—
Managed £xx,000 / month budgets for organisations utilising cloud services to ensure costs don't run away with their self. 
—
Key lead on a £xx,000,000 digital transformation programme. 
Digital & Tech
Innovation
Launched job search engine Tendo Jobs with AI and machine learning technologies powering the platform. Which has identified and analysed over 5,000 Companies UK Wide and is being used by job hunters throughout the UK.
—
Launched GeezerCloud IoT device and platform to enable regulated food and pharmaceutical companies to remotely monitor the temperature of their critical inventory and proactively respond to issues. 
—
Launched YumInfo, a teckie search engine for searching the Linux level Yum Package Manager  of over 20,000 packages. This has been used by over 250,000 people globally since launch.
Get in Touch
As you can imagine, every scenario described above is very unique to the organisation who was involved. Get in touch to discuss your individual needs and requirements and we can tailor a package that works for you. If I can't help directly, I'll know someone who can. Let's have a conversation, get to know each other and let's go from there.