WiFi Marketing & Analytics
Increase footfall and double your revenue per head with WiFi Marketing and Analytics
Free WiFi is everywhere, offering it in your venue is no longer a unique selling point for your business. Turn your free WiFi into a marketing and analytics goldmine. If a customer comes in once per month and you can turn this into once every two weeks, then you have doubled your revenue per head. It's as simple as that.
Everywhere offers free WiFi in their venue, whether this is in a café, pub, restaurant, bar, bowling alley, cinema, shop, store, shopping centre or market. Customers expect free WiFi wherever they go and are quite happy to provide their data in return for accessing this service. Turn your standard WiFi router into a marketing and analytics goldmine.
Our WiFi Marketing & Analytics service allows you to connect with the customers in your venue like never before by bridging the gap between online and offline. Start to understand the customers who are visiting your website and the customers who are visiting your premises in-store.
Customer Experience
As a customer, they enter the venue and logon to the free WiFi with any of their social media channels including Facebook, Twitter, LinkedIn, Google+ or Instagram. It's as simple as that, and the customer is on the internet browsing away in no time. No need to enter any 'WiFi Passwords' that are often posted around venues with details about how to logon.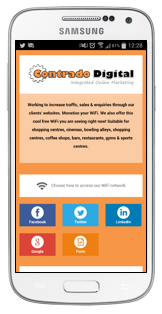 Once they logon to the WiFi, there is an option to 'Like us on Facebook' which can help increase the venues social media following as part of this process with no extra effort at all. We find that approximately 50% of customers who logon via Facebook will also like the venue on Facebook too which gives an additional method of communication with that customer after they leave the venue.
Business Data and Analytics
As customers have logged on via their social media channels, they have granted the venue access to their demographic data which can be used for marketing purposes. The demographic data about the customer is captured at this point and stored for later use by the business.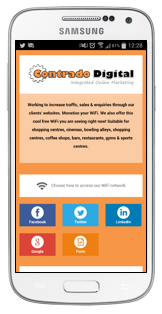 Below shows a sample of the data that is collected about customers;
Name
Email address
Age
Gender
Last visit date & time
Total number of visits
The town the customer is from
In addition to the data available about a specific customer, there is additional data available to aggregate this data into meaningful analytics including;
Total number of WiFi users per day, allowing you to manage staff levels more accurately and predict busy times in the future
Most popular social media channels that customers logon with, helping you to prioritise your social media efforts on the channels where your customers are most active
Age and gender demographics aggregated together to see who your customers really are, no longer having to rely on instinct and gut feeling
The most popular towns your customers come from, allowing you to see how far people travel to the venue
New and repeat customers, allowing you to see how many of your customers are new to the venue and how many are repeat customers
Monthly Marketing
We feed all of the above data into your current / new email marketing system that allows you to communicate with your customers on a regular basis with the sole aim of encouraging them to visit the venue again soon. If you don't currently use an email marketing platform, then we will work with you to set this up so you can communicate with your real world customers with ease.
To get your marketing messages out to your customers we work with you to run campaigns and report on results. For example, for pubs, bars and restaurants, this can be to promote the food and drink in the venue along with special offers, menu changes and special occasions to encourage customers to visit again sooner than they would normally do.
Sectors
Our WiFi Marketing & Analytics solutions are suitable across a range of industries with a wide range of benefits to each.
Retail & Leisure

Customers are already using their phones to browse the internet while in retail and leisure venues, there is nothing that can be done to stop this. Instead, this should be embraced to give your business an extra tool to connect with your customers.
Whether this is comparing prices online for products, checking in on their favourite social media channel or simply sharing a photo of what they are doing. Being part of this process means that you as a business can connect with this customer and build on the relationship you already have with them.
For example, you could;
Email out specific discount codes and multi-buy offers for customers who visit you in-store
Reward loyal and regular customer with freebies, such as a free coffee on their 6th visit
See exactly how customer travel around your shopping centre, which shops they visit, where they congregate – allowing you to build detailed customer demographics
See the age and gender of your customers, allowing you to fully understand what marketing messages they are most likely to be receptive to
Use real time engagement so as a customer is near your shop, they could be emailed out a special offer to entice them to visit your shop instead of a competitors
Suitable for shopping malls, soft play centres, sports centres and gyms.
Hospitality

Engage with your guests and customers to bridge the gap between the online and offline worlds. Every single hotel in the world should be offering their customers free WiFi, customers have come to expect this everywhere they go. Business travellers particularly absolutely require free WiFi and will choose a more expensive hotel if it offers free WiFi.
The hospitality sector, whether a hotel, bar or coffee shop, is ideal for offering customers free WiFi as they enjoy their time at the venue. Directly connect with customers visiting your venue and turn this data into a marketing opportunity to increase repeat business.
For example, you could;
See how many of your customers are repeat visitors along with when and how often they visit
Increase reviews for your venue on platforms such as Trip Advisor by encouraging customers to review your venue while they are already there
Generate more check-ins, likes and shares on social media channels as your customers tell their friends where they are and what they are doing
See detailed demographic data about your customers
Suitable for bars, restaurants and hotels.
Health & Education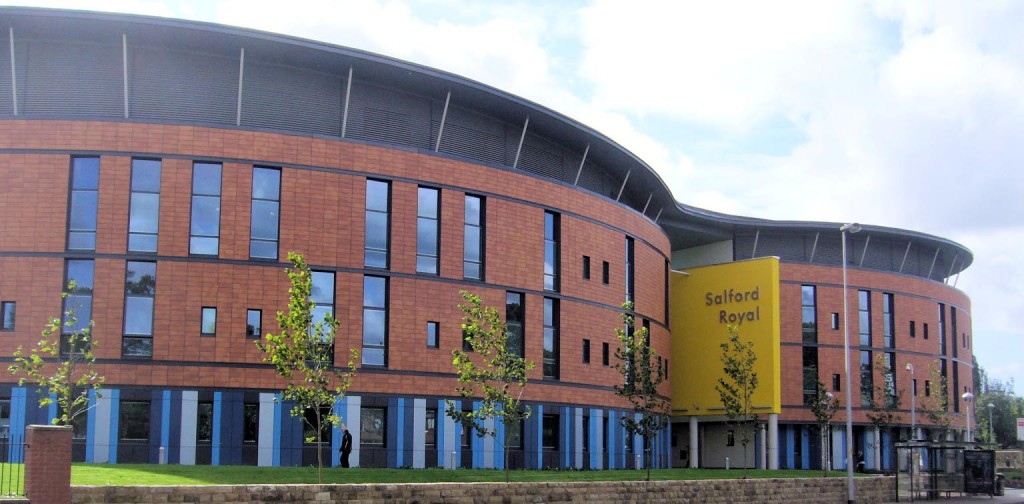 The healthcare and education sectors are increasingly relying on WiFi powered technologies to communicate, whether this is internal communication, or communication from customers to the outside world. With the ever increasing use of tablets, mobile smartphones and monitoring equipment, using WiFi as a data collection tool is essential.
For example, you could;
See how people move around your venue throughout their visit
Get a full understanding of waiting times for customers or patients
Send announcements to regular customers or people with ease
Invite customers to events including lectures, patient consultations or book signings
Suitable for schools, colleges, universities, healthcare businesses, medical practices, libraries, galleries and museums.