Call Tracking
Track marketing activities more accurately by counting conversions over the phone
We offer a call tracking service which allows you to track your marketing activities more accurately by taking into account customers who purchase products over the phone. This system then feeds data back into Google Analytics so that you have a more accurate picture of how your marketing activities are working for your business.
Do you have customers purchase your products over the phone? If so this data is likely being tracked in a different system than your online purchases, which isn't that useful when you are analysing data within Google Analytics. We have the technology available for you to pass purchase data back into Google Analytics once a customer has made a purchase over the phone. This means that your reporting is now far more accurate which allows you to make better decisions about where to invest your marketing budgets.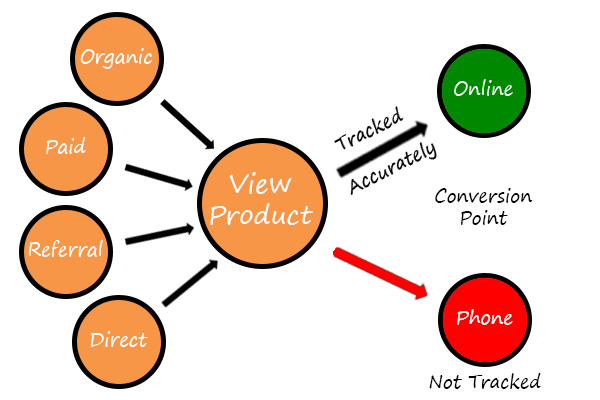 Call Tracking Benefits
There are many benefits to your business to tracking calls including;
Get a full picture of how your marketing campaigns are performing online to ensure all customers are being tracked accurately. If a large percentage of customers from a specific marketing channel are phoning you to purchase products instead of purchasing online, then this could mislead you into thinking that this campaign is underperforming.
Understand how customers behave on your website prior to calling. Knowing this allows you to dig deeper to see if there are specific queries your customers can't find the answer to online. This can feed into your digital content strategy to help customers find information easier and save your business money by cutting down on simple information based phone calls.
Track the value of your calls using the IVR system to feed purchase data back into Google Analytics post-call.
Track which keywords are driving calls and understand why this may be. Understanding this allows you to take informed decisions about how to manage that group of customers more effectively.
Geo-targeted marketing is possible in the future once you understand which areas of the country are driving phone calls through your website.
Capture missed calls to ensure you never miss a possible sale ever again
Pre-call prompting to provide valuable insights to your sales staff about where a customer has come from prior to calling
Call recording to gather further insights into customers and future training material for your staff
Resource planning to understand which are the most popular times of day for your business and if you are over/under staffed to manage those calls.
Get in touch to find out how call tracking can help your business track your marketing campaigns better.